Article
ArtBeat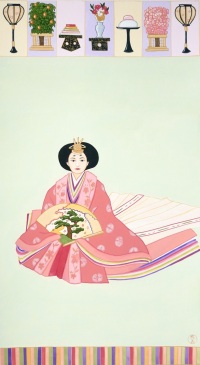 Amy Couling is a bilingual Japanese New Zealand artist based in Ōtautahi. A graduate in 2020 in Applied Visual Arts from Ara Institute of Canterbury, Ohinasama is her 3rd solo exhibition since her graduation and her current exhibition consolidates the influence of her Japanese heritage as central to her practice, drawing from the rich symbolism of kimono patterns, ukiyoe woodblock prints and her family history. Her work is largely figurative and incorporates flat planes, soft colours, matte textures and detailed line work reminiscent of traditional Japanese paintings and ukiyoe prints. Couling primarily works with gouache on paper, and this has been complemented by her porcelain ceramics and silk screen textile prints to create her own kimonos.
Couling maintains that her art practice is an ongoing exploration of identity, place and belonging. 'My work is informed by the nuanced perceptions of society that I gained from growing up at the intersection of two distinct Eastern and Western cultures. Representation of Japanese people, especially Japanese women, has historically been sexualised, exoticised and appropriated by Western art and media and it has often been rife with misinformation about Japanese culture. My work pushes back on those notions by portraying empowering images of Japanese women and showcasing Japan's rich cultural background through the kimono'.
'I have always had a passion for the kimono, Japan's national garment which is deeply imbued with cultural symbolism through traditional patterns, materials and how it is worn at specific events. My work encourages people to see the beauty of the kimono and understand its cultural significance in Japan, and to revive interest in it for younger generations to come'.
DETAILS
Amy Couling: Ohinasama
Chambers Gallery
80 Durham Street, Sydenham
18 January – 14 February 2023
IMAGE
Amy Couling, Ohinasama, 2022, gouache on paper