Article
ArtBeat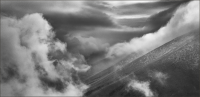 Born in Latvia in 1943, Andris Apse was a post-war child, immigrating with his mother to New Zealand in 1949. Today he is acknowledged as one of Aotearoa's most prominent and respected landscape photographers. Initially discovering his enthusiasm as photographer through his work with the New Zealand Forest Service in the late 1950s led to his increasing prominence in the 1960s and 70s as Pākekā New Zealanders, then discovering the land and light of the country of their birth also discovered landscape photograph as an important medium.
His commitment to photography saw him work as a professional from 1969, developing his practice and exploring its potential with the landscape a subject for experimentation and realisation of images that captured his experience of the land, shared by New Zealanders. Apse became one of our best-known photographers but was equally recognised internationally, his work featured in prestigious publications, such as The New York Times and numerous photography books. His photographs also became the subject of gallery exhibitions, including in Ōtautahi in the late 1990s a solo show at CoCA, the Centre of Contemporary Art.
In February 2022, Apse is exhibiting at the Stoddart Cottage Gallery, featuring a selection of his best landscapes from the past thirty years, including, for the first time his Platinum/Palladium prints, made using a century-old process that results in archival qualities with rich detailed sepia toned prints. Studying this process in San Francisco, there is also a local connection with the images in his exhibition, Light and Landscape at the Stoddart Cottage Gallery made by Stuart Clook, a well-known Banks Peninsula expert in alternative printing processes.
Andre Apseá contribution to photography is recognised as the recipient of the New Zealand Order of Merit, Honorary Fellowship of The New Zealand and Australian Institutes of Professional Photographers, Olympus International Photographer of the year and winner of the animal behaviour section of the UK Natural History Museum's International Wildlife Photographer of the Year competition.
DETAILS
Andris Apse, Light & Landscape, 4 – 27 Feb
Stoddart Cottage Gallery, 2 Waipapa Avenue, Diamond Harbour
Friday-Sunday and most public holidays, 10am-4pm
IMAGE
Andris Apse, Lindis, platinum palladium print