Weekly Walk and Talk Art Tours Ōtautahi Christchurch
Sat 09 Feb 2019, 10:00 am
Sat 09 Feb 2019, 12:00 pm
Outside the Isaacs RoyalTheatre
145 Gloucester Street
Christchurch
Visual Arts, Exhibitions, Arts Culture,
Wheelchair access, Accessible toilets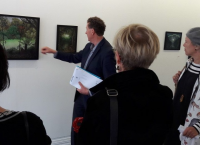 From 9th February weekly walk-and-talk tours to inner city galleries, artist-run spaces and studios in Ōtautahi Christchurch will take place across 18 exhibition spaces, grouped together in 4 tours each month. Focusing on the central city and Sydenham, these visits have been developed in association with ArtExplore. Established by Caril Cowan and Brian Latimer with tours in Auckland, then Wellington and Dunedin and now Christchurch, they offer an experience of the visual arts that is unique in its diversity, expertise and informality - revealing the never-ending variety of exhibitions taking place each month throughout the year.
The Christchurch Walk and Talk Tours begin Saturday 9th February and the details of the first four weeks are:
Saturday February 9:
We will meet outside the Isaac Royal Theatre, 145 Gloucester Street, at 10.00am
The tour will start at Fiksate Gallery with the group exhibition, Face Value, then move to Southbase Gallery in Tūranga to view Kā Huru Manu (the Ngāi Tahu Cultural Mapping Project). From there we walk to CoCA to see Mitchell Bright's Cultivated, then another group exhibition, Object Show at The Central, and finish with Beyond The Grave at the Teece Museum of Antiquities.
Saturday February 16:
We meet at The Anchorage Café at 4 Walker Street at 10.00am.
The tour will start at The Anchorage looking at Jonathan Waters' Dizney Dreamz, exhibition then to Nadene Milne Gallery for works by Gretchen Albrecht, Stephen Bambury and Samuel Harrison. Next we look at Liam Dangerfield, Sara Garland and Rebecca Stewart at Chambers Gallery, then work in stock at NZ Artbroker and finish with Julie Blyfield and Kristen Coelho at The National on Moorhouse Avenue.
Friday February 22:
We meet at Form Gallery at 468 Colombo Street, Sydenham, at 10.00am.
After viewing an exhibition at Form Gallery by Aaron Scythe, followed by Sanjay Theodore at Jonathan Smart Gallery, and work in stock at Dilana Rugs, we finish at City Art Gallery, 96 Disraeli Street, Sydenham, where we will view works by Francis Van Hout.
Saturday March 2:
Meet at Windsor Gallery at 386 St Asaph Street at 10.00am.
Beginning with Windsor Gallery, we view works in stock, then visit Space Academy to view works by O J Lochhead and Vivienne Murchison, Masters Exhibition at NEXT Gallery. There will also be studio artists visitors as part of this tour, full details to be confirmed.
To book, contact Karin.bathgate@xtra.co.nz or on mobile 0275355422. All tours are held on Saturday and selected Fridays. Cost $20 per person (please bring cash). The duration of the 'art walk and talk' is 2 hours from 10am to 12 noon.