Article
ArtBeat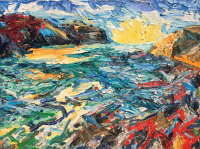 Responding to the environment of Purau and its hinterlands, Wayne Seyb presents a new body of work created during his time as the inaugural Stoddart-Purau artist-in-residence.
In his bold and richly textured depictions of the local landscapes, Seyb sustains a commitment in Aotearoa to expressionist painting, and in doing so, echoes something of the spirit of Impressionist painter, Margaret Stoddart, Seyb's exploration of elemental contrasts between land and sea, also her watercolours. During his highly productive residency over June, many of Seyb's works were painted en plein air.
Seyb was born in Temuka and started his painting career in Otago, a landscape characterised by low clouds and dark hills. Since 1999 he has lived and worked in the open spaces of Ōtautahi, conveying the essential strangeness of the Canterbury region, his painting from the period following the 2011 Canterbury earthquakes seeing him constantly on the streets, recording buildings before they disappeared.
Seyb's work is held in the collections of the Hocken Library Dunedin, The Aigantighe Art Gallery Timaru, Lincoln University and Victoria University, and in numerousprivate collections.
DETAILS
The Margaret Stoddart-Purau Artist Residency enters its second year in 2023. Applications are currently open. To apply at: www.stoddartcottage.nz/artist-residency
For further details or images, contact Stoddart Cottage Gallery Manager, Dr Jo Burzynska:
info@stoddartcottage.nz / 021 776161
Exhibition Details: Wayne Seyb, Edge of Water, 6 - 29 January 2023
Opens, Saturday 7 January 2023, 2-4pm
Stoddart Cottage Gallery, 2 Waipapa Avenue, Diamond Harbour
Friday-Sunday plus most public holidays, 10am-4pm.
IMAGE
Wayne Seyb,Matariki and the seven sisters of Purau, oil on canvas
Wayne Seyb, Edge of Water, oil on canvas