Blog
ArtBeat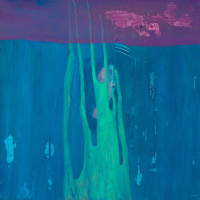 Nick Harte conjures a distorted assembly of abstractions with his Warp of Vices. This imagined term of venery offers early inroads to consider cumulative concerns and personal histories of addictions, hurts, and hospitalisations.
Fluid horizonal projections and flickers of sensuous polish over score inky viridian depths. Hazy sfumato whispers in a seductive aside, luring the viewer with promises of oblivion, even as ghoulish tones bleed through these pastel visions, foregrounding conversations of corruption and organic collapse in contemporary painting.
Eclectic cross-disciplinary influences intermingle in a hypnotic murmuration, a phenomenon of sweeping motion and synchronicity, diverging and mutating at some unseen cue, in echo of the perpetual rhythms and structures of the body. Pieces shared by the artist during a recent hospital stay shift narratives of cinematic pleasure and performance to those of vulnerability, recovery, and reinvention.
Questions of object and image grow fuzzier as Harte further explores the readymade potential of cardboard record sleeves. These 12-inch square formats tease established expectations of abstraction, flirting with representative form and texture.
Painted surfaces are deliberatively disquieting –recalling absorptive fleshly qualities inneon-tinted palettes, these readily engage with genres of bodily horror, tribute to Harte's unerring talent for the unsettling. Medium accumulates in successive veils, flaking in places, here and there punctuated with viscous whorls and ridges, the raised lines of scar tissue. Warp of Vices goes on to invoke the body in the action of mark-making, evidencing process and gesture as textures and inclusions settle and become fixed within acrylic strata.
These are landscapes as much as they are figurative dissections. Repeating motifs are shaped and scoured by painterly surges and currents. Biomorphic shores and horizons, tides and receding fields delineate boundaries of embodied experience, the far reaches of our senses, of skin and sky. Objects and images stir below the surface, vestigial forms submerged beneath spectral aura.
Nick Harte examines dialogues on bodily disturbance and delight through his distinctive conceptual lens with Warp of Vices.
This exhibition sees an organic continuity and growth in Harte's practice, leaning into both inescapable autobiographical influence, occult allusion, and intuitive animal character, with a series sharing deeply personal insights into the fears and anxieties of the artist.
This body of works also creates space for audience revelations and understandings in abstract dimensions - ethereal atmospheres providing a liminal cathartic suspension, into which we might retreat, process, and heal.
DETAILS
Nick Harte, Warp of Vices
City Art Depot, 96 Disraeli Street, Sydenham
21 June – 11 July
IMAGE
Nick Harte, Glossolalia of Ashen Fountains (2022). Nail polish, acrylic on 12" cardboard record cover. Image courtesy of the artist