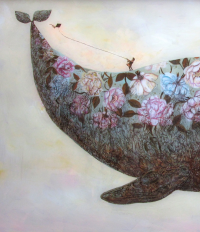 Transforming Death is a week-long exhibition at The Arts Centre Te Matatiki Toi Ora's Pumanawa Gallery in October, held during Death Matters month. Ten local artists have been invited to create a series of work based on their own relationship with death, loss or grief - This is no small task.
For all the artists this has been a revealing process. Working in their preferred mediums of steel, stone, paint, acrylic and clay, they have explored the subject in their own way, through an environmental lens, personal loss and as an inspiration to live their best life now. Death then becomes more of a curiosity and wonder, rather than something morbid or taboo. Transforming Death is intended to open up conversations in an inspiring and inclusive way.
Curator Melanie Mayell is a writer, photographer and Deathwalker, (someone who can accompany the dying person and bereaved through their journey). Like many people she has had various experiences of loss and death where she felt completely at a loss as to what to say and how to act. Her awkwardness and frustration about the lack of language and understanding led her to start the Christchurch Death Café in 2016, the annual Death Matters conference in 2019 and the Transforming Death Art Exhibition in 2020.
DETAILS
Ruth Killoran, Asheley Elizabeth, Princess Heart, Aralyn Doiron, Auspicious Victory, Dot Moulton, Rosie Mac, Satori Mayell, Tony Hopping and Katrina Stadler, Transforming Death
Pumanawa,
First Floor, Boys High
The Arts Centre Te Matatiki Toi Ora, 2 Worcester Blvd
11 – 16 October
10am - 4pm
IMAGE
Aralyn Doiron, untitled,recycled materials