Article
ArtBeat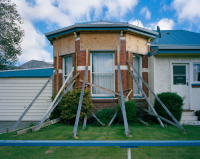 Things that Shape Us reminds us that trauma is an integral part of the psyche of Ōtautahi Christchurch. Curated by Melanie Oliver, this exhibition at the Christchurch Art Gallery Te Puna o Waiwhetū considers the trauma that Ōtautahi and wider Aotearoa has faced as a community. From the legacies of colonial violence to the earthquakes and mosque attacks, Things that Shape Us documents these events, and calls us to consider our collective response carefully.
The exhibition can be read on various levels. On one level, there is a sense of celebration of collective response to mutual experience. We see how the community has come together and cared for one another in different ways, as in Tim J. Veling's Support Structures, where he has captured damaged buildings that are physically held up. It can be read as a didactic appeal to remember the way Ōtautahi residents have cared for each other through painful events.
In addition, the need to step outside of institutional power structures to seek action is also explored and questioned. Spanning Aotearoa's history, cultures, and its rights and inequalities, the expression of collective frustration and helplessness of the people of Aotearoa is depicted in John Miller's documentary of protests. The work highlights the need to challenge decision-makers to work towards a more democratic future and an identity reflective of all its people.
Artist and designer Matthew Galloway discloses the other side of the picket line with his consideration of the Christchurch City Council's post-quake rebranding. He problematises the dominance of colonial identity, putting forward suggestions for a design/logo that reflects the broader identity of the city and we are challenged to consider a proactive response.
In the enveloping, three-channel video by Graeme Atkins, Natalie Robertson and Alex Monteith, the viewer is forced to audit the lens of their relationship to the land. We are confronted with the extensive damage the whenua of the Waiapu River region faces, and our temptation to call this 'human' damage, when, in the context of Aotearoa it should more accurately be called 'colonial' damage. We are challenged to respond to this work and our wider environment, to think through these issues within a mātauranga Māori framework, sensitive to and respectful of the needs of the whenua, understanding how it behaves with an unfamiliar humility. Things that Shape Us challenges our often familiar conceit in our responses to trauma, a calling to pro-action, rather than reaction.

DETAILS
Curated by Melanie Oliver, Things that Shape Us features works by: Fiona Amundsen and Kanariya Eishi, Graeme Atkins, Alex Monteith and Natalie Robertson, Matthew Galloway, Janneth Gil, John Miller, Miranda Parkes, Ella Sutherland, Tim J. Veling
Christchurch Art Gallery Te Puna o Waiwhetū, corner Montreal Street and Worcester Boulevard
24 July – 21 November
IMAGE
Tim J Veling,Support Structures #3, Tonbridge Street, 2011, collection of the Christchurch Art Gallery Te Puna o Waiwhetū; purchased 2015