Article
ArtBeat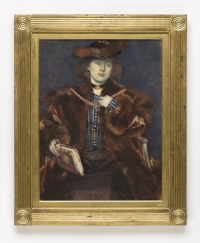 An exhibition on the Arts and Crafts has been long overdue at the Christchurch Art Gallery Te Puna o Waiwhetū. The Moon and the Manor House is the Gallery's newest historical exhibition and it explores various aspects of the Arts and Crafts and the Aesthetic movement. The title and overall tone of the exhibition are inspired by Alfred East's dreamy English pastoral paintingThe Moon and the Manor House, c.1894. Alongside East's work are a range of landscapes, portraits and literary subjects by New Zealand and European artists from the late nineteenth and early twentieth centuries.
Surprisingly, the exhibition brings to light the extraordinary work of several underrated women artists all of whom had connections to Christchurch. These artworks are across a range of media and rarely on display. Of particular note are Rose Zeller's watercolour Farm Buildings, c.1913, and Eleanor Hughes' delightful dry-point etchings Apple Tree, Two Ash Trees and English Farm Scene, c.1930. Although small, Hughes' images are rich in detail and reveal her expertise as a printmaker. Florence Akins combines her interests in metalworking and linocut printmaking in her exceptional linocut The Metalworker, 1932. Meanwhile, the influence of the Arts and Crafts on Doris Tutill is revealed in her stunning handcrafted Flamingo design appliqué hanging, 1931, and her gouache on paper Fuchsia Design, c.1932.
Another highlight are two landscapes by Japanese artist Andō Hiroshige, including woodblock print Evening Snow at Asukayama, 1837 – 1838. The inclusion of Jean-Baptiste-Camille Corot's etching, Environs de Rome, 1866, and James McNeill Whistler's etching and dry-point St. James's Street, 1878, illustrate the fascinating influence that Hiroshige and Japan had on European artists in the second half of the nineteenth century.
There are a number of other lovely surprises in the exhibition: English artist Gertrude Demain Hammond's watercolour A Reading from Plato, 1903, recalls the work of the Pre-Raphaelites, as does Robert Anning Bell's The Romance, c.1901, a gorgeous tempera painting on wood panel. Nearby is the 1892 Kelmscott Press production of A Dream of John Ball and A King's Lesson by William Morris, the 'father' of the Arts and Crafts.
Considering my interest in this period, The Moon and the Manor House was a much-anticipated exhibition that did not disappoint. It is always a joy to see works from the Gallery's collection that have received little attention in the past and this beautifully curated exhibition includes artworks that are now among my favourites.
DETAILS
The Moon and the Manor House
Curated by Ken Hall
Until 1 May 2022
Christchurch Art Gallery Te Puna o Waiwhetū
Cnr Worcester Boulevard and Montreal St, Christchurch
IMAGE
Gertrude Demain Hammond, A Reading from Plato, 1903, watercolour. Collection of Christchurch Art Gallery Te Puna o Waiwhetū; Presented by the family of James Jamieson 1932.