Article
ArtBeat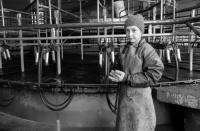 The Associates are an affiliation of fifteen artists who meet fortnightly at the Centre of Contemporary Art (CoCA), previously the CSA or Canterbury Society of Arts (1880 – 1996). They represent a variety of disciplines and exchange and share knowledge central to their practice. Several of the Associates have had a long association with the CSA/CoCA, some as far back as the 1960s and 70s, historically participating in critique groups and exhibiting at the gallery.
When CoCA reopened in 2016 its director, Paula Orrell, set up an artists' support programme. Artists with previous involvement with CoCA, alongside a new group, became the Associates. Since then, these artists have contributed to CoCA in paid employment and in a voluntary capacity, as educators, photographers, technicians, receptionists, administrators and invigilators.
A Stone to Strike and a Rock to Stumble Over is curated by Warren Feeney and is the Associates second show, following Associated, held in December 2018 at CoCA. A Stone to Strike and a Rock to Stumble Over illustrates the paradox of individuality within each artist's oeuvre and its representation in a group show, fostering associations as an 'artistic collective' of sorts. What results are themes of home, memory, materiality, and process woven throughout each artist's work, subtly binding each to another, creating modest liaisons and discord. The Associates are: Sarah Anderson, Janneth Gil, Karen Greenslade, Lee Harper, Sarah Harper, Mikyung (Amelia) Jang, Viv Kepes, Stephanie McEwin, Gaby Montejo, Gaby Reade, Olivia Smith, Mark Soltero, Nicki Thorne, Akky van der Velde and Susanne van Tuinen.
DETAILS
A Stone to Strike and a Rock to Stumble Over
Ashburton Art Gallery, West Street, Ashburton
18 April – 18 June

IMAGES
Sarah Harper, 'Sawubona.' Pit fired stoneware and hand spun wool weaving vessel
Nicola Thorne, Chloe Rose, 2017, archival Pigment Ink on Hahnemuehle Paper, Edition 1/10