Article
ArtBeat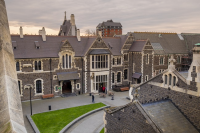 The Arts Centre Te Matatiki Toi Ora's Creative Residency Spaces
In an interview with chief executive of The Arts Centre Te Matatiki Toi Ora, Philip Aldridge details the virtues of its creative residency spaces in the central city.
'There are now four Creative Residence suites, on the top floor of the West Lecture building above Lumière Cinemas, four bedroom-workspace suites, overlooking the Christchurch Botanic Gardens. The living areas are shared spaces and include a study nook, a kitchen, laundry facilities and balcony overlooking The Arts Centre's North and South Quads.'
'Though we don't yet offer fully funded residency programmes, we are working with partner institutions and artists to access funding. Any length of time is considered. If someone has a project, artist or a funder, we ask that they get in touch. We consider professionals from any art form; visual arts, writing, theatre, dance, music, architecture, fashion, and computer gaming design. With a long history of science at The Arts Centre, we are also keen to hear from professionals in this area.'
'The Creative Residence suites are also available on a nightly or weekly basis as accommodation for visiting creatives and there is special rate for not-for-profit organisations, income generated from these stays supports operations at The Arts Centre.'
Since re-launching artist residencies in April 2019 with acclaimed musician Bic Runga, we have worked with organisations that include SCAPE Public Art, the New Zealand Choral Federation's Canterbury/West Coast branch and The Physics Room. It has also been home to SCAPE 2019 curator Emma Bugden and SCAPE 2019 artists and we hope to have studio spaces for individual artists in the future, complementing the Maker Workshop and Pūmanawa community exhibition spaces to complement these facilities.
IMAGE
View from the Arts Centre's creative residency spaces to the North Quad