Blog
ArtBeat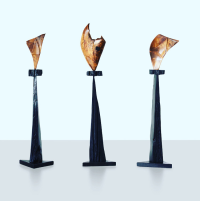 This month my theme is the provincial – and by that, I mean nothing pejorative, but rather, to acknowledge that the art world in New Zealand is just as lively, sophisticated and worthwhile outside of the main centres.
The New Year took me to very different parts of Te Wai Pounamu, and it was a pleasant reminder that there are a lot of high-quality art experiences going on in relative proximity to Christchurch.
In Māpua, outside of Nelson, I visited Purpose Gallery for Manifest, a show by Whangārei sculptor Paul Olson (Ngāti Kurī, Ngāti Hine, Te Aupōuri). Olson is an interesting character who as a teenager learned from Ralph Hotere in his studio.
Olson's primary medium is carved wood, and, while sitting outside the usual academic-critical art system, he has a wonderful knack for blending the figurative, organic formalism, and traditional motifs into striking abstract sculptures with beautiful surface finishes. It's a kind of modernism but rooted in reparative spiritual metaphors and the soul of nature and family.
In the other direction, halfway down the South Island in Timaru, the Aigantighe Art Gallery collaborated with Paul Nache Gallery in Gisborne to produce the exhibition Matthew Couper: Isolation Paintings. Couper is such an interesting artist, a New Zealand expat now based in the Nevada desert outside Las Vegas. Out of an eclectic mix of art history from Philip Guston to Mexican folk painting, he synthesises a visual language that is entirely his own to communicate what's on his mind.
In Isolation Paintings, Couper is meditating on his distant home and the paradox that while distance and being surrounded by sea protects Aotearoa from things like Covid, it also isolates it. Perhaps there is also the idea that even if you're born here, you can feel a bit like a castaway. I enjoy the fact that for all the seriousness of the theme – and these are things that we can collectively empathise with – there's a puckish, sometimes dark humour to the paintings, an absurdist rejection of lazy nihilism.
In a roundabout way this leads us to the splendid exhibition of late nineteenth century Aestheticism/Arts and Crafts period art and design, The Moon and the Manor House, at the Christchurch Art Gallery. Curated by Ken Hall and on until 18 September it reminds us how connected New Zealand, Japan, and distant South Kensington really were in the flow of ideas. It's a must see.
DETAILS
Paul Olson, Manifest
Purpose Gallery, 5I Iwa St, Māpua
15 January – 28 February
Matthew Couper: Isolation Paintings
Aigantighe Art Gallery, 49 Wai-iti Road, Māori Hill, Timaru
4 December – 27 February
The Moon and the Manor House
Christchurch Art Gallery Te Puna o Waiwhetū, corner Worcester Blvd/ Montreal Street
12 November 2021 – 18 September 2022

IMAGE
Paul Olson, Three Grandmothers, 2021, Kauri and Totara, Dimensions variable, image courtesy of Purpose Gallery, Mapua,