Media Release
ArtBeat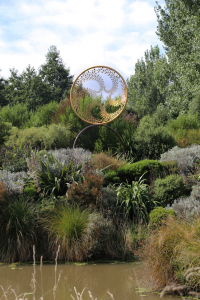 Founders and hosts of the annual Tai Tapu Sculpture Garden, Annabel Menzies-Joyce and Peter Joyce will once again open their garden to the public over three weekends in March: Saturday and Sunday, 6th and 7th, 13th and 14th, and 20th and 21st March.
As in previous years the exhibition provides support for leading, mid-career and emerging New Zealand artists through the commissioning of works and exhibition and sale of their work. For the 8th Annual Autumn Exhibition, Annabel and Peter will also be announcing who has been selected to create their 10th anniversary sculpture to be unveiled in 2023.
Encompassing numerous works in a wide range of media (local stone, iron, bronze and steel, flax, timber, ceramics and glass) the exhibition in 2021 features over 70 small and large artworks for sale, including downloadable soundscapes. The participating artists are: Graham Bennett, Tony Bond, Ivan Clayden, Bing Dawe, Neil Dawson, Alison Erickson, Ben Foster, Fiona Garlick, Natalie Guy, Sam Harrison, Anna Korver, Tim Main, Rory McDougall, Annabel Menzies-Joyce, Doug Neil, Tony O'Grady, Oriah Rapley, Jenny Reeve, Rebecca Rose, Julie Ross, Hamish Southcott, the late Llew Summers, Debbie Templeton-Page, Roger Thompson, Johnny Turner, Robyn Webster, Olivia Webb, Evan Webb and Bruce Aitken, Jane Whales, Jim Wheeler, Matt Williams, and Grant Wylie.
The artist whose work will be commissioned to celebrate its tenth Annual Autumn Exhibition will be chosen from the three finalists, short-listed following a call for expressions of interest from an impressive selection of high calibre proposals. Receiving seed funding to further develop their proposals, Neil Dawson, Natalie Guy and Sam Harrison have created Maquettes for the final selected work.

Neil Dawson is proposing a large-scale suspended feather sculpture in steel; Natalie Guy, an abstract architectural work inspired by two outstanding chapels: John Scott's Futuna in Wellington and Le Corbusier's Ronchamp; and Sam Harrison, a life-size work in bronze of two embracing figures. The selection committee for the final work is, lead curator at the Christchurch Art Gallery Te Puna o Waiwhetū, Felicity Milburn, artists, Darryn George and Graham Bennett, curator for the Tai Tapu Sculpture Garden, Melissa Reimer and Annabel Menzies-Joyce and Peter Joyce.

Among the brief for their consideration of the selected work is its originality, creativity, thoughtfulness, durability, craftsmanship and relevance. How does the proposed sculpture respond to or enhance Tai Tapu Sculpture Garden's landscape and does it resonate with their vision to support contemporary sculpture in New Zealand and enhance native biodiversity in Canterbury?
DETAILS
Tai Tapu Sculpture Garden 8th Annual Autumn Exhibition
Saturdays and Sundays, 11am to 3pm
6th and 7th, 13th and 14th and 20th and 21st March 2021 or by appointment
1/199 Cossars Rd, Rocklands, Tai Tapu, Christchurch 7672
Entry is $10 per person. 16-years and under are free. Parking is free.
Second Sunday Special: earlier opening time: Sunday 14 March the gates open at 10am to better suit families with little ones who nap from noon. All are welcome.
IMAGE
Neil Dawson, Vortex (2016), steel, paint, a commissioned and permanent work in the Tai Tapu Sculpture Garden's collection