Sketch for Summer- 20-20 Rocks at the Jonathan Smart gallery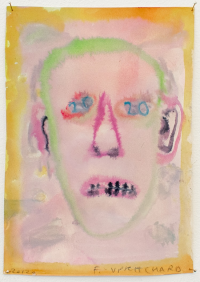 Sketch for Summer: 20/20 Rocks at the Jonathan Smart gallery
Writer
Jane Wallace
Have you ever been swimming on the east coast in those impossible days at the beginning of a new year? The flick of the calendar allows suspension for a moment, caught in a watery blue, of seaweed, of carefully undulating waves, a mishap of a branch tugging out past the shoreline. At Jonathan Smart Gallery, Brenda Nightingale, Francis Upritchard and Nathan Pohio present a show, 20/20 Rocks, pregnant with the optimism of late December and January. It is an ode to the futurism of a new decade, particularly to the arrival of one that has been the substance of myth since their childhood.
20/20 Rocks pulls together paper-based works from the three artists. They are unassuming in scale, as though leafs torn straight from a workbook. The mark-making feels fluid and spontaneous. Both Upritchard and Nightingale use bright strikes and washes of colour, feeling through daily motions in paint and watercolour.
Here is someone folding washing, someone else clambering over rocks. In Pohio's work, the colour remains, but in a muted capacity. His forms are geometric and textured with a pigment made from Ōnawe, a pā site of Pohio's iwi. As such, although the shared medium lessens the stylistic differences that can otherwise be found across their individual practices— practices which tend not to be drawing or painting based at all— there are distinctions that can be found if you look in the right places.
In a sense, it is an unraveling of any notion of mature style. 20/20 Rocks leans into inconsistency and idiosyncrasy— a kind of mood that seems perfect for the future-is-now-ness of such a year as 2020. The celebration of 20/20 Rocks is in its disregard for a narrative of progress and for art that is made in insular environments. The series of collaborative books that are included in the show were jointly made, and so with each turn of the page, the work of Upritchard collapses into that of Nightingale, and is washed away by Pohio. There is a selflessness involved in this kind of art-making because it asks that the artist disregards a historical desire for linearity, grandeur or stardom. There is value in things that are small and quiet.
As a visitor, it is a show for idling in. You are given space to exist within the show, not crowded out by the work. I am interested by the empty wall space, which offers a play of absence that draws the sightline up and engages a more imaginative function of the brain than a standard gallery hang. In this way, 20/20 Rocks is a show that is able to replicate its subject matter in its arrangement as well.
What do these things mean in the space of the dealer gallery though? How can works of intimacy and friendship be dispersed into the homes of collectors, departed and diminished by this scattering? Perhaps this is how everything operates anyway— only brief moments of connection that are otherwise put on hold by time, space, economy.
IMAGE
Francis Upritchard, 20/20, 2020, watercolour on paper, 170 x 120mm