Article
ArtBeat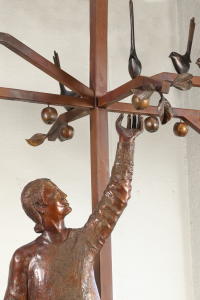 The inaugural event was held in November 2000 and Sculpture on the Peninsula will host its final biennial at the Loudon Farm in Banks Peninsula from 28 to 30 January 2022.
Event manager Gill Hay says that after twenty-one years it is time to call it a day. Established by the late Geoff Swinard from Governors Bay, over the past two decades it has been overseen by the Lombardy Charitable Trust. Its initial launch was also a first as the largest sculpture exhibition in Aotearoa Te Wai Pounamu, the South Island and something of that status remains in 2021, the Gibb Farm Sculpture Park in Makarau, Auckland is the most significant point of reference and opportunity to experience contemporary public sculpture in a rural setting in Aotearoa.
Sculpture on the Peninsula is also further distinguished as a public event that is only possible because of the scale of volunteers that has ensured its delivery and that has also informed Hay's decision around its demise. She comments: 'It has evolved by being run by volunteers and that dedicated core of people is getting older. It is a community of people and an event that has its own whanau - 200 volunteers made up of our family and friends and it has been delivered by enthusiasm and passion. The cost of running Sculpture on the Peninsula is never highlighted.' Overseen by the Lombardy Charitable Trust, the event has ensured that the Trust has contributed nearly $750,000 to Cholmondeley, with funds from the closing event similarly intended for Cholmondeley. .
The 2022 Sculpture on the Peninsula is also an opportunity to look back and acknowledge its history with a selection of works from past fundraising auctions on display. On each occasion the auction has featured a "farm-related" theme. Hay has sourced a wide range of former items for 2022. 'The first auction was in 2005 and the subject was hubcaps and we have one from that year by ceramicist Cheryl Lucas. There have also been saws as well and there are four from sculptors Pippin Wright-Stow, Tony Bond, Mark Whyte and also painter/printmaker Bill Hammond. There were also shovels and these are represented by Whyte and sculptor Phil Price. From the year we did posts there is one from sculptor Alison Erikson and also from painter Roger Hickens.'
In 2002 the selection of works for display on Teddington's farm has been undertaken by lead curator at the Christchurch Art Gallery Te Puna o Waiwhetū, Felicity Milburn andManager/Curator of the Ashburton Art Gallery, Shirin Khosraviani. Their decisions for the final works took place in July 2021 on the premise that the event would be taking place in November. Like all public events in 2021 -22 Hay noted that pushing it out three months later has created complications with freighting and reorganising the delivery of works, particularly from the North Island and Auckland. 'We have cut people a bit of slack due to circumstances. We have a Paul Dibble work that is still in Palmerston North of an apple tree, currently sitting in his studio.'
From artists in the Canterbury region it has been more straight-forward. 'Mark Whyte is carving a large black piece of granite into a column. It is a stunning work and is one of a number of large works. There are others by Roy McDougall, Shane Woolridge, Hannah Kidd and from Motueka Nick Duval Smith who is making a bell tower 2.4 metres high and 1.76 wide. Whyte has also been one of many regular artists over the past two decades. He is also one of two sculptors who have exhibited at every event. The other is artist Ian Lamont, well-known for his Poppies over Gallipoli sculpture on the corner of Anzac Drive and Travis Road.'
Also of interest this year is conceptual artist/sculptor Trent Hiles, co-winner in 2020 who dug a large trench across a hillside paddock on Teddington Farm. More recently Hiles has been volunteering his time at Rolleston's Men's Prison. 'He will be walking over an area where the trenches were dug in 2020 and placing on site works that some of the inmates have carved.'
DETAILS
Sculpture on the Peninsula
Loudon Farm, Banks Peninsula, 28, 29 and 30 January 2022
Tickets available: https://www.sculpturenz.co.nz/grand-opening ,
Saturday and Sunday, $20.00 per person. Children 15 and under free. Sorry, no dogs.
The Lombardy Charitable Trust complies with Government Covid 19 Guidelines in relation to entry. Vaccine Passports (or other Government approved Certification) will be a requirement for entry.
The Award will be judged in 2022 by Warren Feeney
IMAGES
Mark Whyte Last Order, 2021, black granite
Paul Dibble, Apple Tree,(detail), 2021, cast bronze