Article
ArtBeat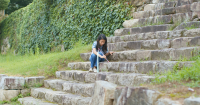 SCAPE Public Art's 2021 season opens in November, the second of three from invited managing curator Jamie Hanton united by the thematic premise of Fictions. This year Hanton has titled SCAPE's programme as Shadows Cast. Like its predecessor Secrets and Lies, the commissioned works from the participating artists celebrate and confront the histories and current realities of the life and values of the cultures and communities of Ōtautahi. Hanton describes the 2021 programme as aiming to introduce elements of mystery and moments of revelation to the city. 'Shadows Cast takes the shadow as its point of focus, exploring the possibilities of shifting identities and new roles for our city. The shadow is a space of potential.'
The delayed opening of SCAPE's annual season scheduled for October has also seen SCAPE turn the delay into a positive, announcing the new dates from 19 November to 14 January 2022. This means that its previously six week public art programme is extended to ten weeks, comprehensively covering the summer holiday period.
Shadows Cast explores 'the lasting impact of certain fading histories and the possibilities for different histories to overlap and overwrite it,' says Hanton, selecting eight national / international artists to respond. Shadows Cast features newly commissioned works from artists based in Aotearoa; Aroha Novak, Janet Lilo, Kate Louise Palmer, Sione Monū, and Olivia Webb as well as works from Kate Newby, now resident in Texas, renowned Korean artist Bona Park and Chinese artist Nabuqi.
Aroha Novak is a Ōtepoti Dunedin-based artist known for large-scale installations and her political commentary on issues of local and international significance. Her commissioned work for SCAPE, The Native Section is sited in Hagley Park, the artist looking at how this location was transformed in the late 19th century from an indigenous site of land with a range of native plants into its current manifestation as a grand Victorian English garden. Hanton backgrounds Novak's research, commenting that she has looked at Manaaki Whenua Landcare Research's collection of original plant specimens held by Botanist J B Armstrong (1850 – 1926) and his list of indigenous flora from 1864 in Hagley Park. 'She is embroidering botanical specimens of those removed onto building scrim and displaying some of the original specimens inside the Canterbury Museum.'
Korean video artist Bona Park's relational-based art is centred upon collaborations with other individuals from all walks of life, considering the small details of their occupations and stories to open up wider narratives about their histories and social context, as well as questions about the nature of all artists' relationships with their audiences. For Shadows Cast, Park's filming at two sites of Buddhist temple ruins outside Seoul are central to her work Circular Ruins, the artist following a girl touching the ruins and in doing so, coaxing sound out of the ruins. 'For Christchurch, Bona Park has overlaid it with even more sounds created by a foley artist, and its siting will prompt questions about how we engage with the histories of our built, and re-built environment.'
Sculptor and senior lecturer in Fine Arts at the University of Canterbury, Louise Palmer's commissioned work for SCAPE is sited in the Kate Sheppard Memorial walk on the edge of the Botanic Gardens. Hanton comments that Palmer's interests are in drawing our attention to a feminist history of Christchurch conscious of the absence of its visibility and also referencing Palmer's casting practice. 'Heritage bollards have been colour-matched to the colours of the camellias and have been placed at the perimeter of the area, twenty-four bollards shades of pink, cream and white and 24 plaques. It is in remembrance of the suffragettes as well as other women of personal significance and some of national/international repute.'
The recipient of the Walters Prize in 2012 Kate Newby is famous for her installations and attention to the presence and personality of the spaces and environments that she comments on through her practice. Hanton backgrounds her work in Shadows Cast as representative of one of its stronger themes, architectural history and the shadows that it casts. 'Newby's Take your chances with me is the 3nd iteration of an installation from 2014 at the international arts centre and gallery, the Arnolfini in Bristol. It was on the top of the building. Six strands of red rope wound through the architecture. For Christchurch it will be in the city's former Lower Court House as a similar line-work by her that will read across the building.'
Auckland-based film maker and multimedia artist Janet Lilo is Ngāpuhi, Samoan and Niuean. In Shadows Cast she constructs a much larger than life melted pen that she found in a laundrette. Hanton describes the object as 'a homage to analogue communication. The pen is mightier than the sword with the pen scaled up to five metres. It will be going across the Market Square in the central city with the original pen on exhibition in the Canterbury Museum.'
Sione Monū is an artist of Tongan diaspora based in Auckland, working across a range of arts practice; photography, moving image, and adornment. For SCAPE Public Art's 2021 season his work responds to Cunningham House in the Botanic Gardens. ' Monū is working with traditional adornment and beading and flower work as costuming that expands into cloud forms. As an installation in Cuningham House it is a crossover of botanic and floral histories.'
Nabuqi lives and works in Beijing and exhibited at the Venice Biennale in 2019. Hanton describes her commissioned work for SCAPE as 'speaking to two different realities. It is a printed billboard that spotlights a tropical beach but the billboard is perforated, the artificial and the actual in contrast to one another. It will be sited near the bunker on Montreal Street outside the Christchurch Art Gallery Te Puna o Waiwhetū.'
Of Dutch-Pākehā descent, artist and musician Olivia Webb brings together performance, video, sound and music and her project for SCAPE, Resilience Training is a work for community engagement. 'Sited in the Botanic gardens, the work is a response to the last two years as a call to resilience. It takes on the four cardinal virtues and reconsiders them in a contemporary setting. There are rituals that audience scan participate in, as well as choreographed performances throughout the season.'

DETAILS
SCAPE Public Art Season 2021
Shadows Cast: Janet Lilo, Sione Monū, Nabuqi , Kate Newby, Aroha Novak, Louise Palmer, Bona Park and Olivia Webb
20 November 2021 - 14 January 2022.
IMAGES
Sione Monū, site render for 'AoKakala Ōtautahi. Courtesy of the artist and SCAPE Public Art
Bona Park, still image from The Circular Ruins, 2021, 4K video with sound. Courtesy of the artist and SCAPE Public Art