Reviews
ArtBeat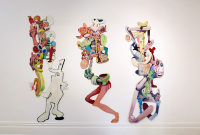 Robert Mcleod, Balancing Act
Reviewed by Warren Feeney
Robert Mcleod's Balancing Act at PGgallery192 was a welcome and unanticipated reminder that Expressionist painting remains as timely and applicable to the 21st century as it was to Germany and Europe in the 1930s. Commenting on the paintings selected for exhibition, Mcleod positioned them within the current international climate of public expressions of blatant aggression toward people and communities considered as 'other' (particularly in the USA), as questionable and abnormal responses to fellow human beings.
Balancing Act was also a reminder - perhaps not intentionally - that once upon a time in the world of popular entertainment, nearly a century ago, artists in the studios of Walt Disney responded with perverse excitement and pleasure to German Expressionist painting and its reconsideration of the credibility of our assumed 'rational' behaviours. And if there is any doubt about the intentions of Disney's artists and animators, the connection with the iconography and misshapen figures in Balancing Act, echoes the spirit of Disney's film screen animations from the 1920s and 30s: Silly Symphonies and numerous Mickey Mouse, Donald Duck and Goofy cartoons.
Balancing Act represented a confronting and damning response as to how we too often seek to grasp, comprehend and respond to difference in others. Deceptive in its humour, Mcleod's creations, erect and nearly life-size on the gallery's walls demanded a reconsideration of such unfortunate and all too-familiar human responses.
Robert Mcleod, Balancing Act, 8 Oct-2 Nov
PGgallery192, 192 Bealey Avenue