Article
ArtBeat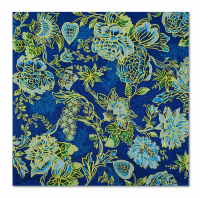 Reuben Paterson is known for his glitter works, particularly his "botanicals" featuring flowers, leaves and blossoms in all of their glorious variety and beauty. Glitter is pooled and parried, then fixed on canvases ranging from small and square to much grander formats. Several new botanicals feature in The Intimates: Part II, lovingly titled with phrases like 'Set Those Big Blue Eyes Upon The World Precious Boy.'
We also stand before glittering skyscapes for the first time – where photographs of billowing cumulus and striated cirrus have inspired Paterson in compositions of carefully controlled whites, grays and blues.
And there are crystal stacks. Small freestanding towers of colour like nothing Paterson has fabricated before. As domestic objects they are mysterious and tantalising. But they will be seen upsized and outdoors, one of the elements in a major public commission Paterson will spend much of 2020 manufacturing. As often happens in practise, from the small or intimate bigger things come.
Reuben Paterson, The Intimates. Part II, The Central Art Gallery, 2 Worcester Boulevard, until 26 January
IMAGE
Reuben Paterson, Wallflower (cobalt), 2019, glitter, polyurethane resin and cyanoacrylate adhesives.