Reviews
ArtBeat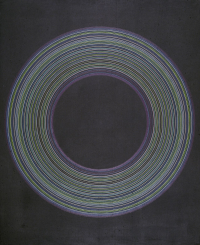 Based on a spoken response to Black Paintings (1968 - 1969) by Jamie Te Heuheu as part of Te Puna o Waiwhetū Christchurch Art Gallery's public programme 'Hotere 101'.
Hotere's Black Paintings reminds me of one of my first major experiences of Hotere's work, Orange on Black (1968) which I encountered at the early stages of a BFA.
My education prior had been dominated by Eurocentric and American art discourse. I came to understand these works through reproductions, while this helped to appreciate these works formally. However, this has its limits because authenticity and the power of an artwork rely on in-person experiences. This experience several years ago helped me realise the importance of engaging with the local art scene in Aotearoa – to see power and authenticity of artworks in close proximity. It's a continual source of motivation.
Now visiting Ātete (to Resist), it acts as a reminder of many of the mark-making techniques that have influenced my practice often from distant lands, and the works I have experienced from artists on home soil. Hotere's allegiance to international modernism makes Ātete a welcomed exhibition for me and many young artists – navigating the art world can be difficult, one needs a guide.
Known for saying little about his own work, Hotere leaves interpretation open to the viewer, and encourages us to trust in our own aesthetic intuition. His mastery of picture making devices, such as colour, line, and applied processes are a driving force to evoke varied moods and feelings, to bring our own experiences and emotions to his works. Too often, our search for some reigning meaning in art can cloud the viewing experience.
I stand in front of the celebrated Black Paintings, and what do I see? First, an uninterrupted field of black; the void. Broken by elegant lines, the colours of the spectrum which together create light. Forms and beams of light move across the picture's surface. And of course, I see myself, the viewer. Move around the work and constantly change what can and cannot see. Our relationship with this work is not passive – we are active – we are a part of the art.
DETAILS
Ralph Hotere, Ātete (to resist)
Christchurch Art Gallery Te Puna o Waiwhetū, corner Worcester Blvd and Montreal Street, Christchurch 27 March – 25 July
IMAGES
Ralph Hotere,Black Painting, 1969, acrylic on canvas, collection of the Christchurch Art Gallery Te Puna o Waiwetū, purchased 1969