Blog
ArtBeat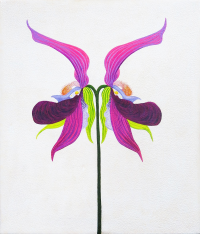 In Radical Botanical, plants are active, and sometimes provocative. Not the passive and static subjects of art used solely for their aesthetic qualities or to symbolise human concerns, these representatives of the vegetal world have something to say. At this current point of ecological and existential crises, might we do well to listen to these agents with which we're inextricably interconnected?
Through painting, photography, assemblage, ceramics, printmaking, olfactory art and mixed media, artists explore critical, playful, and challenging new ways of engaging with plants. Novel creative methods generate new perspectives on flora that adorn, perfume, cure, invade, or struggle for survival. Sensitive engagements with vegetation stimulate ecological and cultural exchange, while past traditions are critiqued for the limiting binaries and hierarchies they reinforced from gender to species. Participating artists are: Sarah Amazinnia, Sarah Anderson, Sharnaé Beardsley, Jo Burzynska, Justyna Burzynska, Marisa Cappetta, Tim Cheesebrough, Karen Colyer, Jo Ernsten, Jo Ewing, Masako Fisher, Evelyn Keeley, Graeme Keeley, Prue Kennard, Soon-Lee Spicer, Ilze Jansen van Rensburg, Cherei Richan, Innocenza Toritto, and Giselle Weir.
Radical Botanical's theme echoes the growth of the arts practice of Margaret Stoddart, who was born in the gallery's historic building. After initially making accurate botanical drawings of native flora, Stoddart moved on to the decorative flower paintings deemed "an appropriate subject for young lady painters". When she ultimately developed an impressionistic style, she was considered too radical by local critics of her day.
Part of the Radical Botanical programme includes The Temple of Flora – Botanical Assemblage Workshop hosted by exhibitor and skilled botanic artist, Sarah Amazinnia, 17 July, across the harbour at her Lyttelton studio. In this workshop, Sarah interweaves hands-on guidance to making your own botanical assemblage from materials she's gathered in the Banks Peninsula (and Stoddart Cottage's bountiful garden), presenting the overlapping art historical traditions of Botanical Art, Vanitas, and Memento Mori.
Art historian, Dr Rosie Ibbotson will also give a free talk at the cottage, 31 July, exploring Incursive aesthetics: Floral imaginaries, colonial visual cultures, and environmental violence. Ibbotson explores relationships between images and environmental change in later nineteenth-century Aotearoa New Zealand, linking the central vegetal themes of the Arts and Crafts Movement with broader settler preoccupations of modifying their new land, notions of 'home', and imperial anxiety.
DETAILS
Radical Botanical
Stoddart Cottage, 2 Waipapa Avenue, Diamond Harbour
1-31 July 2022
Talk: Art historian, Dr Rosie Ibbotson, Incursive aesthetics: Floral imaginaries, colonial visual cultures, and environmental violence. Sunday 31 July, 2-3pm
Further details and booking information: https://www.stoddartcottage.nz/events
IMAGE
Sharnae Beardsley, Geminate, 2022, gouache on canvas