Article
ArtBeat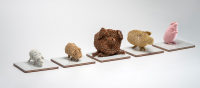 Press Play and Start Washing.
We definitely live in strange and interesting times. Who could have imagined that washing your hands, the collection of the Christchurch Art Gallery Te Puna o Waiwhetū and New Zealand poetry would share the same stage? And that the gallery's librarian and archivist, Tim Jones would be responsible for making the connections? Hand-Washing Verse is an online exhibition that draws from works in the public gallery's collection by Aotearoa New Zealand artists and links them up with poems of approximately 20 seconds elevating the task of washing your hands into an enlightening and entertaining experience.
It is a partnership between art and hygiene about "squashing" Covid-19 that until now could never have been imagined, but Jones had been working on this project prior to the gallery's lockdown. Now he is encouraging staff, family, friends and all who are interested to select an artwork from the gallery's collection and a poem that they associate with their chosen work of art.
Jones says that in the period prior to shutdown when the gallery and schools were open, Covid-19 had already begun to shape people's behaviour, cultivating the necessity to wash your hands. 'There was a lot of stuff on the internet, people singing silly songs, clapping and singing Happy birthday twice. Others were putting new words to songs in various attempts to get people to wash their hands. I thought we should do something similar.'
'It is light-hearted thing. The last couple of weeks we were in the building I photocopied a poem that I liked the look of and blue-tacked it to the mirrors above the wash-basins in the gallery's washrooms. Some people said "that's really nice" or "that's stupid" but it was just a talking point. When the building closed I thought we can carry on doing this online. It just bubbled up from there.'
Poems on the gallery's website include its director, Blair Jackson reading Dunedin by Edith Howes for Robert Nettleton Field's Sand Dunes, Dunedin a seascape of the city's shoreline and a place well-known to him.
As interest from staff grew to create their own post for the online exhibition, Jones decided to check the question of copyright. He contacted Rupert Glover, son of poet Denis Glover (1912 – 1980) as many of the poems being selected were by him. Jones was pleased to hear that Rupert 'was tickled pink about the project.'
Jones says that he is also keen to mix it up with responses from all ages, races and gender. 'I am trying to keep it a bit light. We don't want poetry about a tortured lover or death or loss. We are trying to keep it mainly uplifting. And yes, sometimes it is profound and sometimes it is not.'
Jones has also thought of poets who have written about works in the gallery's collection like Jenny Bornhodlt, Jane Simpson and John Summers. 'But I have to emphasise there was no planning or master plan. It has taken on a life of its own.'
Violet Richards, the young daughter of the gallery's Registrar Gina Irish recites This Little Piggy Went to Market, an accompaniment to Ani O'Neill's 5 Little Piggies, while writer and literary critic, Dr. Peter Simpson reads James K Baxter's poem, There Is Only One Direction, the poet's response to Colin McCahon's painting of the same name.
The gallery's lead curator, Felicity Milburn and curator Peter Vangioni selected poets whose work had been previously chosen by them as titles for exhibitions they had curated: Milburn's exhibition of Juliet Peter's paintings and prints, and Vangioni's In the Vast Emptiness, a survey of Canterbury regionalist painting. The Peter's exhibition, Where the Line Leads, 2019, came from a line in the poem, What Happens by Bornholdt who had written a series of poems responding to Peter's Canterbury landscapes from the 1940s. In the online exhibition Bornholdt's reads What Happens. For Vangioni's 2015 survey of regionalism, its title is taken from Basil Dowling's poem, In the Vast Emptiness and is read online by the curator.
'The response has come in from different ways. Sometimes it is me just scanning the Oxford Book of New Zealand verse and sometimes someone visiting the website and saying "this poem goes with that." It is a real mixture.' Thomas Benjamin Kennington's Relaxation, 1908 has been paired up by Jones with Denis Glover's Girls in a Factory. 'Those girls aren't in a factory but I think they probably are thinking about their own futures. It is a way of reading the painting. What are they thinking about and what are their hopes and ambitions?'
He was also aware that Christchurch-based poet Jane Simpson had written, A Student Flat, in a Christchurch Winter, a poem that responded to Philip Clairmont's Fireplace, 1972. 'It was published in an anthology. She may have brought it to our attention, again it seemed too good to resist. And we are trying to keep it vaguely local, a bit New Zealand if we possibly can. Jane was only a phone call away and we thought it was a really great poem.'
Hand-Washing Verse has also been a technically easy online exhibition to put together day by day. 'Compared to many digital things it couldn't be easier. I would be very pleased if people start the day by looking at what we are doing online, having a look at what we have posted and thinking about that would be good. It sets a routine in a world that has very little routine. We regularly point to the poem of the day on Facebook and Instagram.'
'With poetry there is also that Christchurch 1930s thing, about contemporary poetry and painting. There are a lot of personal and intellectual links between them. Poems could also be the label beside the works in an exhibition or available as an audio with it. There are other ways of working with the painting /poetry connection that haven't yet been explored. This project may be the spark that ignites such exploration'
DETAILS
https://christchurchartgallery.org.nz/mygallery/zxc0l9
IMAGES
Juliet Peter, North Canterbury Pastoral Scene. Collection of the Christchurch Art Gallery Te Puna o Waiwhetū; Judith Willet Ensor bequest, 2006
Ani O'Neill, 5 Little Piggies, 2005. Collection of the Christchurch Art Gallery Te Puna o Waiwhetū