Article
ArtBeat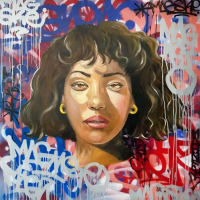 In what has been an undeniably unusual year, Perspective - Women in Urban Art will be Fiksate's second exhibition of 2020, exploring the experiences of a group of female urban artists, each travelling distinct paths within the wide scope of graffiti and street art, fields traditionally considered predominantly masculine.
Featuring graffiti writers, street artists, muralists, photographers and videographers, Perspective will shine a light on the work, stories and realities of eighteen women who have made their mark on Aotearoa's urban art culture. Each artist presents a unique back-story filled with diverse experiences, revealing that challenges and success come in many different forms and categorisation is never definitive.
In addition to the exhibition of works, Perspective includes the release of a limited edition zine featuring interviews with the artists. Perspective seeks to add an important and timely chapter to the discussion of urban art in New Zealand, a story where female artists continue to have an essential voice.
DETAILS
Perspective - Women in Urban Art
Fiksate, 165 Gloucester Street
6 to 29 November
IMAGE
MEEP, Self-Portrait, (From Face Value in 2019)