News
ArtBeat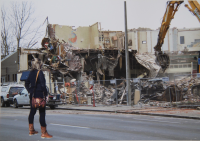 The Orion Powerhouse Art Gallery, Akaroa, is presenting the final exhibition of its 2020-21 season, an installation by artist Lynne Lambert. Glass Half Empty - Glass Half Full (Thoughts on a Post-Quake City). Lambert's exhibition is in four stages encompassing four poems: The artist's response to the 4 September 2010 earthquake, the second to 22 February 2011, the third a consideration of the city post-quake and the fourth a strategy to move forward. In paintings, photographs and audio, 'the works share a journey that takes me from a place of fear to a place of renewed hope for the future'.
Lambert is a Christchurch artist, resident in Akaroa, whose studio in February 2011 was in the Arts Centre of Christchurch. Exhibiting at Pūmanawa Gallery in 2019, this exhibition marks the 10th anniversary of the February 2011 earthquake.
The Gallery is also looking forward to its October 2021 - April 2022 season, featuring a diverse range of artists; painters, printmakers, sculptors and mixed media including glass and pottery. Gallery visitors can look forward to: The Indigo group of nine Central Otago artists (16 Oct - 7 Nov). New works by Simon Edwards and Ross Gray (13 Nov - 5 Dec). Banks Peninsula Artists, Dave Walker, Ben Reid, Steve Helps, Anna Gibbs, Jacqui Lewis McPhail and Annette Moore (11 Dec - 9 Jan 2020). Paul Deans, Judy Curnow and Lynne Lambert (15 Jan - 13 Feb). Alice Lewis and Jan Cole (19 Feb - 13 Mar) and Kara Burrowes, Sarah Harper and Lorraine Natusch ( 19 Mar - 10 April).
IMAGE
Lynne Lambert, Inside/Out (2018) photomontage