Opening Event for "Our Life" Exhibition
4 days ago, Tue 23 Feb 2021, 05:30 pm - 6:45pm
Eastside Gallery, Linwood Arts
388 Worcester St, Christchurch
Christchurch
Exhibitions, Visual Arts, Community Arts,
Wheelchair access, Accessible toilets, Mobility parking
https://www.instagram.com/linwoodartsandeastsidegallery/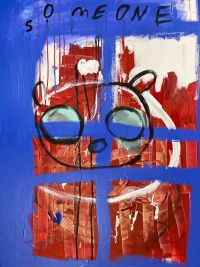 Join us from 5.30-6.45pm on Tuesday 23 February at Eastside Gallery for the opening of Our Life.
Our Life is an exhibition of work by artists who use The White Room Creative Community Space, Õtautahi, Christchurch. The subject matter of the work is as diverse as the lives of the artists who have created it. Our Life offers a view into each of their worlds and an insight into their creative starting points. As with many artists, there is rarely an end point or a solution.
The exhibition highlights the essential nature of creativity. It is a mechanism to explore and make sense of our world and our lives, whatever our backgrounds.
Hosted by: Eastside Gallery, 388 Worcester St, Christchurch.
Opening Hours: Wednesday-Saturday 11am-5pm, free onsite parking.
Image: Detail of "Someone" by Isaac Tait, acrylic on canvas, 2020.