Reviews
ArtBeat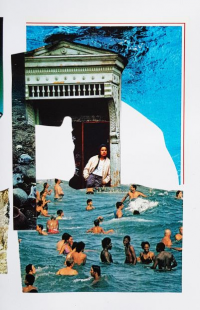 Scraps #1 - Spencer Hall
"Transit and jetlag expressed as sticker collage."
Like many compulsive diarists, prolific South Island artist and musician Spencer Hall has a deep sense of self. A lifelong journal keeper, Hall has culled these bite-sized articles, comics, photographs and illustrations from his 2018 and 2019 sketchbooks, charting his move to Canada and his recollections of life in Aotearoa. Slickly printed in Montreal with a striking colour cover, Scraps is a lovingly assembled letter to the world, featuring typewritten lists of favourite records, t-shirt graphics and zines, memories of minimum-wage jobs, spidery sketches of half-remembered photos from a broken smartphone, an adorable tribute to his Canadian partner and a heartfelt autobiographical strip about the Christchurch mosque tragedy. As a dedicated self-publisher, collector and curator, Hall constantly examines his identity as a New Zealander flying the flag for idiosyncratic media, and his expatriate status has sharpened his focus, giving his memories of home a wistful tinge - A delightfully framed window into the mind of a dearly-missed local creator.
Lucid Change - Veronica Brett
"It's my mother's presence - I can hear her laughter in the flushing toilet."
The solo comics debut of Dunedin artist and tattooist Veronica Brett arrives in the form of a mischievous one-woman anthology, packed with short, gently psychedelic stories rendered in a variety of styles with shades of Gilbert Shelton, Robert Crumb, William Burroughs and David Mitchell. Risograph printed and squarebound in salmon pink, Brett's lively monochrome line work mixes inks, washes and felt pens, delivering autobiographical vignettes, thoughtful ruminations, inky dreams, trippy visions and fond childhood memories. A duck and a penguin discuss relationship issues, the cartoonist experiences a drug-induced familial reverie, a snake receives a vigorous massage, a raindrop makes a tragic journey, and a mallard makes a sandwich in an adorable strip that invokes Uncle Scrooge by way of Klasky-Csupo.
Brett's worldview is goofy, charming, and refreshingly well-adjusted (notwithstanding the short dream strip in which a wood louse is surgically removed from a young woman's head) and sidesteps the darker, confessional nature of many personal comics. Confident, articulate and whimsical, Lucid Change is a fine collection of underground strips from a talented newcomer.

Covid 19 2020 - Anonymous
"The throat singing's begun. Through the amp and loop pedal. Shoot me now."
Created during New Zealand's recent lockdown, this slight publication bookended by torn vintage photo collages is a classic passive-aggressive anger-zine. Its anonymous author's litany of short, haikuesque complaints about a (hopefully) former housemate is a cute and cathartic record of isolation frustration. Pithy three-line gripes, in serifed type on stark white backgrounds cover complaints about drunken shouting, Netflix documentaries, sourdough starters, kitchen filth and the social media over-sharing so prevalent during the pandemic. A snippy, grumpy and funny little record of familiar flat frustrations.
DETAILS
Ride On Super Sound, 172 High Street, Christchurch. https://www.globuya.com/NZ/Christchurch/1075641695943726/RIDE-ON-SUPER-SOUND
IMAGE
Veronica Brett, Lucid Change
Anonymous, Covid 19