Blog
ArtBeat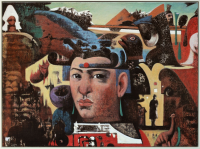 The Richard McWhannell exhibition More Miles than Money at PG Gallery 192 is an excellent excuse to consider the extraordinary metamorphosis of his paintings over the years.
McWhannell has never had the public and institutional acknowledgement he deserves. Born in Akaroa in 1952, he graduated from Canterbury University SFA in 1972 with a Diploma in Fine Arts and has exhibited nationally since 1974. Moving to Auckland in 1978, his work was mainly landscape, eventually orienting more to cityscapes and portraiture. For decades McWhannell has been known and acknowledged as one of New Zealand's best portraitists. These representations, personal, official, of the great and good, always seem to my eye to triangulate between three points – the surreal dislocation of Tony Fomison, the ambiguous mannerism of Pontormo and El Greco, and Lucian Freud alternating with Balthus.
Then in the 1980s the artist travelled to Europe, immersing himself in historical religious art, which is where the mannerism comes in. On his return to Aotearoa be began producing quite surreal paintings of figures in mysterious turmoil.
In the 1990s he went back to portraits of family and friends, and landscapes – the melancholy romantic landscapes of the Waitākeres Ranges from the turn of the century and the sunburned picaresque desert towns of the artist's 2019 "John Wayne Tour" of southern Texas.
I became aware of him as a baby art critic in the early 2000s, so portraits were my primary point of reference. Both portraits and landscapes are familiar, sober, sensible painting. The style is at once recognisable and identifiably McWhannell's.
This is probably why I still get a little frisson of shock at his more recent, highly surrealistic works crammed full of symbols, signs, and samples, seemingly out of context, although, intellectually, I know the 1980s work exists. But even then, those were a lot more restrained than the purely surreal stuff that emerges around 2016 or so.
These works range from spacious dreamscapes reminiscent of Hieronymus Bosch's Garden of Earthly Delights, maybe with a dash of Dalí thrown in for good measure – i.e. they seem to conform to mappable space – to a canvas-cramming frenetic Jungian tombola recalling James Ensor, Max Ernst (especially the frottage) and Frank Marsden.
The work in More Miles than Money (the title is from an Alejandro Escovedo song) is a wild ride. References abound to Uccello, Jack Kirby, Ukraine and everything between. McWhannell continues to surprise.
DETAILS
Richard McWhannell, More Miles than Money
PGgallery192, 192 Bealey Avenue
17 May – 17 June
IMAGE
Richard McWhannell, A Picture for Oum Kalthoum, 2018 – 2019, oil on canvas
PG Gallery 192
24 May – 18 June 2022