Reviews
ArtBeat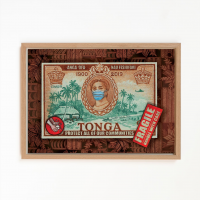 In collaboration with writer and academic Dr Karlo Mila, printmaker Michel Tuffery's Te Moana Nui a Kiwa, features new digital drawings, (and prints from the Handle with Care Series), that resonate within the 30 year history of his arts practice.
Tuffery's partnership with Mila has seen the realisation of the digital video Mana Moana 2020 Meditation which plays in The Central Art Gallery throughout the period of the exhibition. In response to Mila's poetry, Tuffery brings forth the life of the Pacific region and the universe; birds and sea life, forests, clusters of stars, the ocean and more, all come together in an ebb and flow of time uniting past, present and future.
Mana Moana 2020 Meditation is the perfect introduction and point of entry to Tuffery's accompanying seven ink prints. Evolving from the artist's drawings in response to Mila's verse, ancestors, oceans, mother and child and constellations assert their presence in the gallery space against the 'blackest of black' inks. It is a reminder of Tuffery's commitment to the authority of printmaking as a means for dramatic and confronting images. (Certainly, it is possible to imagine the subjects of Mana Moana 2020 Meditation as a series of woodblock prints).
Yet, in terms of their making, Mana Moana 2020 Meditation is also about Tuffery finding new materials and media one more time again, as he has done throughout the history of his practice, bringing to mind memories of his performances in the Arts Centre Te Matatiki Toi Ora and the bulls and turtles constructed as steel sculptures from tin cans in the 1990s and early 2000s.
There is a similar engagement with past and present in the prints from Tuffery's Handle With Care Series in Te Moana Nui a Kiwa. Approached by Pacific Health Plus in Porirua, the artist drew upon the source material of his stamp collection, and in particular, Health Stamps from Aotearoa and the Pacific Islands from the 1930s to 1950. Handle With Care appropriates and accords new-found relevance to those stamps in Tuffery's messages of warning about the vulnerability of Māori and Pasifika communities to Covid19, their subjects in masks, and the addition of hand-washing signs and 'handle with care.' And once again, Tuffery's public engagement with such messages brings to mind his longstanding and urgent concern for the state of the Pacific, its flora and fauna and the wellbeing and life of all its people.
DETAILS
Michel Tuffery, Te Maona Nui a Kiwa
The Central Art Gallery, The Arts Centre Te Matatiki Toi Ora
2 Worcester Blvd, Christchurch
4 February – 7 March

IMAGE

Michel Tuffery, Anga ofa, Nau Fesiofaki, Tonga " Be kind to each other, look after each other", 2020. Digital Print, Non solvent UV Ink on Rosapina white 220 gsm cotton paper
500 x 690 x 40mm, edition number 3 of 19