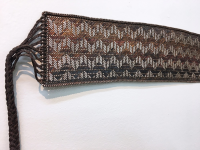 Matariki Artist-in-Residence Matthew McIntyre-Wilson (Taranaki, Nga Mahanga and Titahi) weaves an experience of connectivity and community at Oxford Gallery toi o Waimakariri. The gallery is transformed into amorphous maker's space, by turns archive, studio, and whare wānanga, cataloguing the artist's ongoing explorations of raranga whakairo (plaiting) and engagement with inherited mātauranga.
In a collection of tauira (here, a series of experimental studies to learn from), the spheres of adornment and practical provision are organically intertwined. Techniques adopted from the weaving of hīnaki (eel traps) and fishing nets (kupenga) meet with exquisite decoration; a muka framework gives structure to rows of toroa (albatross) plumes; tui and kahu feathers are inventively spaced and bound, arrayed in the same order they were collected.
This practice is one of conscientious, seasonal material preparation, from the processing of feathered pelts, to the gathering of adhesive harakeke gum. The origin of materials, whether gifted, found or recycled, is acknowledged even as they are reimagined, becoming conduits for new narratives and associations. Copper electrical wire, stripped of its insulating plastic, is woven alongside silver and gold, bringing a contemporary visual language to indigenous fibre arts.
Diverse traditions of object making are called in as parts of a common genealogy - drawing from the artist's formal jewellery training, from customary crafts employed by tangata whenua today, and from legacies of makers past. Through close looking at taonga tūturu and documentation held in museum collections and library archives, McIntyre-Wilson unpacks a wealth of technical knowledge. Forms and designs from these artefacts are studied, then mindfully re-articulated in the artist's own works.
This 'revitalisation mahi' offers conversations around systems of exchange, and considers how cultural material and information is collected, stored, and shared through object making. McIntyre-Wilson's residency programme will further this continuum of experiential learning and teaching with a series of wānanga, guiding the processes of harakeke netmaking and bird skinning. A light-hearted yet essential practice of Net-Working, these proposed workshops reflect upon cultural production as embodied social exercise, reconciling objects with their makers, lived histories, and wider communities.
Drawing from mātauranga Māori passed down by makers known and unknown, McIntyre-Wilson re-envisages customary taonga in fibre, feather, and precious metals. Reflective yet fluid and forward-thinking, this rich practice delves into a 'whakapapa of weaving' and methodologies taught and treasured across time, gathering-in and drawing together, while looking to a future of reconnection and new understandings.
DETAILS
Matthew McIntyre –Wilson: Matariki Artist in Residence at Oxford Gallery
Oxford Gallery toi o Waimakariri
Main Street, Oxford
30 June – 7 August 2022
IMAGE
Matthew McIntyre-Wilson.Tātua (2009), copper, fine silver, waxed linen. Image courtesy of the artist.