News
ArtBeat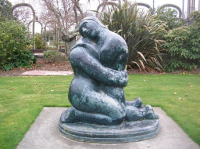 In memory of Llew Summers 1947 – 2019. When I moved to Christchurch in the 1970s, Llew Summers' sculpture was my first experience of public art that could be described as contemporary – quite distinct from 19th century memorial sculptures of English colonial figures that populated the central city. From that perspective alone, it was great to see Summers' contemporary Picasso/European Modernist works. In May this year, I visited Llew Summers' and Robyn Webster's exhibition, Loves of Our Lives at Little River Gallery and was again reminded of the magnificence of the scale that Summers was capable of with his sculpture and the physicality of its presence as an experience. I listed the show in The Press as one of ten recommended exhibitions that month and, while gathering my thoughts about his practice for The Press, came across a quote from him, championing his faith in the subjects of his art."The figurative has been going out of fashion for so long and people have said to me: 'the figure has had its day'. Hello? We are human beings. As long as we are human beings, the figure will be there." Thank you Llew Summers for your art and timely philosophical reminder about the reality of the human condition.
Warren Feeney

IMAGES
1. Llew Summers, Mercury, bronze, 1700 x 1800, edition 1 of 1
2. Llew Summers, Live Me Tender, Ashburton, East Street.