Article
ArtBeat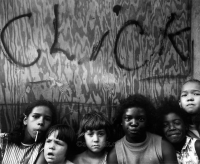 Larence Shustak: air gun? offers a privileged insight into the life and work of American photographer Larence Shustak (1926-2003). Moments from a rich personal narrative as recounted by long time friend and filmmaker Stuart Page, accompany a body of work spanning decades and diverse locales, from 'Uptown' New York to Aotearoa.
The exhibition gradually unfolds like the temporal measure of a musical notation, each segment marking epochs of the artist's transformative life and practice. Excerpts from Page's 2009 film Shustak lend an excitable animation to this otherwise steady rhythm.
As a documentary photographer for legendary jazz label Riverside Records, the artist captured dynamic yet intimate portraits of jazz and blues greats, including Thelonious Monk and John Lee Hooker, in the recording studio. Shustak employed the camera as an instrument of expression; works in the exhibition resonate with a sense of musicality, in hand-held slow-shutter blurs of activity and an unerring 'feel' for a moment.
These qualities translate into the artist's enduring images of scenes on the streets of New York, a record of his fascination with the vibrant cultural and political quarter of Harlem. Pieces like CLiCK (1960) are suffused with immersive atmosphere and glimpses of the unexpected - transforming everyday moments into something extraordinary. His self-published portfolio Black Jews (1960), documenting Ethiopian Hebrew synagogues, is likewise illuminated in the reciprocal implication of photographer and subject.
By the 1970s, some of the city's shine was beginning to wear off. Disheartened by a run-down New York scene, Shustak made his way to Ōtautahi in 1973, and found himself at home in a city of kindred eccentrics. Taking up a teaching gig at the University of Canterbury, Shustak invigorated the art school, fronting the formation of a contemporary photography department. Here, formal arts training was, by all accounts, an engaging side-note to a studio education grounded in conversation, characteristic rapport and a sense of community.
The exhibition features gallery-scanned prints in place of original negatives, many of which were left behind in the artist's sudden departure from the States. Images have a roundabout provenance; pieces are made all the more precious for their itinerant histories.
A kind of live current underscores this retrospective, lending a dynamic jazz to a considered curatorial effort. Larence Shustak: air gun?' poses a heartfelt yet exuberant celebration of the extraordinary practice of friend, mentor, and personality, Larence Shustak.
DETAILS
Larence Shustak: air gun?
Christchurch Art Gallery Te Puna o Waiwhetū,
2 Worcester Boulevard, Christchurch
20 February – 6 June

IMAGE
Larence Shustak,

CLiCK, NYC Photograph. © Estate of L N Shustak