Article
ArtBeat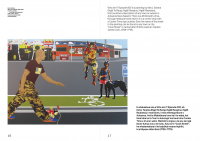 When Kelcy Taratoa (Ngāi Te Rangi, Ngāti Ranginui and Ngāti Raukawa) first emerged with a bang as a very young artist in 2003, there were some – me included – who worried that early fame and the dealer system might freeze the development of his work.
Thankfully as KelcyTaratoa: Who Am I? Episode 001 amply details, this was not to be the case. Taratoa has gone from strength to strength to become an artist of intellectual heft and technical substance.
The publication relates to the mid-career survey exhibition of the same name, covering two decades of the artist's work that showed at Tauranga Art Gallery Toi Taruanga from 5 October 2019 to 30 May 2020. Written by long established art writer Dr Warren Feeney (it seems redundant to make the disclosure that he is Art Beat's editor), with foreword by Tauranga Art Gallery Toi Tauranga director and exhibition curator Alice Hutchinson, and in a splendid move, bilingual, with the text translated into te reo Māori by Hēni Jacob (Ngāti Raukawa, Ngāti Porou), is spectacular.
The design is stunning, particularly the black board cover with its references to Taratoa's graphic style and embossed vertical text. Rather than getting too much in the way of the art and artist, Feeney skilfully lays out the territory of Taratoa's career, letting that, the artist, and the documentation do most of the talking, taking us on a journey from the artist's childhood in suburban Levin to the impact of Te Haka a TeTupere, the wharenui of Ngāi Te Rangi at Rangiwaea marae in Tauranga.
The work evolves from the early cluttered-but-effective semiotic tsunami of pop culture and urban art references into something far more structured, pared back, concentrated in power, composition, and intent. We get a picture of Taratoa's full range, exploring the interplay and counterpoint between the culture of painting and the virtual/augmented/manipulated realities of modern technology with an urgent political edge: his theme has always been our relationship with reality and with culture, but now the anxiety about our technocratic surveillance state is to the fore.
It is a well put together, well researched, and generously illustrated catalogue that also functions well as a standalone book about Taratoa's art career and journey and a wonderful record of an artist's concerns and intellectual processes in the middle of their career.
DETAILS
KelcyTaratoa: Who Am I? Episode 001: Quentin Wilson Publishing for Tauranga Art Gallery Toi Tauranga and Toi-Ohomai Institute of Technology, recommended retail price (RRP): $60.00 Publication Date: 30 October 2021. Available from all good booksellers.
IMAGE
Design: areadesign.co.nz, KelcyTaratoa: Who Am I?Pages 16-17