Ka Awatea- Ngā Reo Hou - New voices from Ōtautahi Creative Spaces- 27 April – 15 May 2021
Tue 27 Apr 2021, 05:30 pm
Eastside Gallery
388 Worcester St, Christchurch.
Christchurch
Free Entry Event, Visual Arts,
Wheelchair access, Accessible toilets, Mobility parking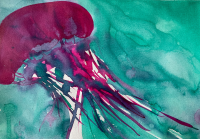 Ka Awatea signifies daybreak, the awakening of creativity and the emergence of new voices. Creativity as a life-force is particularly resonant in a global pandemic which disrupted normal life and forced us to recalibrate. Creativity both sustained us and allowed new ways of seeing. The pandemic also revealed new understanding of living in isolation, something that is all too familiar for some people who experience mental distress.
Ōtautahi Creative Spaces is a specialist creative wellbeing initiative in Christchurch supporting people with experience of mental distress. We do this through studio groups, artist mentoring, collaborative projects and exhibitions.
List of artists exhibiting:
Alexandra Stobbs
Amber Panere
Calum Hay
Catherine Brougham
Elijah Watson
Hadani Woodruff
Jamie Sim
Jonette Kingi
Lauren Michelle
Lewis Trembath
Marguerite King
Marian Cox
Natasha Sadlier
Sam Gane
Sam Lee
Opening Event: Tuesday 27 April 5.30-6.45pm
Hosted by: Eastside Gallery, 388 Worcester St, Christchurch.
Opening Hours: Wednesday-Saturday 11am-5pm, free onsite parking.
Image: "Beautiful Sting" by Marguerite King, acrylic ink on watercolour paper.