Reviews
ArtBeat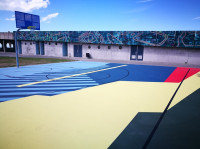 SCAPE Re-activate New Brighton 2018
Reuben Woods
Since 2012, New Brighton has been home to a lively and evolving collection of graffiti, street art and muralism, activating and altering spaces throughout the often maligned, yet fiercely proud, seaside village. This presence, alongside New Brighton's unique social and physical profile, served as inspiration for two recently installed public art works. Josh O'Rourke's High Pressure/Low Pressure, and Nathan Ingram's Forces, commissioned as part of SCAPE's Re-Activate New Brighton project in association with DCL [Development Christchurch Ltd] were completed in February, providing a vibrant transformation of the area south of the iconic pier.
In late 2018, following discussions with a number of community stakeholders, SCAPE called for submissions for two artworks: a mural stretching along a ramped walkway, and the unique opportunity to have a design applied to the nearby outdoor basketball court. The winning submissions, fittingly by local residents, were strong proposals individually, but also an intriguing pair, operating in unison and opposition. While shared colours ensure the pair is a complimentary proposition, their differences are equally as impactful. Although both evocative abstractions, O'Rourke's painterly celebration of the wind and rippling ocean he cherishes as a surfer, was a lovely contrast to Ingram's hard-edged geometric forms, which also references the surrounding natural elements.
Stretching along twenty concrete panels, the subtleties of O'Rourke's process, glitching layers of paint pulled across the surface, have been translated from his studio practice. His first mural, the suggestive procession, like oversized film cells, reveals the successful emergence of his work into the public realm. The flashes of green, blue, yellow and magenta, interspersed with meteorological rings of exposed concrete, shimmer with potential evocations, rewarding closer and prolonged inspection.
Similarly, Ingram's court design (created with assistance from Park Life) draws from his studio practice but is also informed by his background as a street artist. Blocks of colour segment the court, and the diagonal lines of light and dark blue, playing off against the markings, remind us of the court's functional purpose. The angular forms contrast with the poetic motion of players, creating a synthesis of art and play. The effect is a sharp, simplified, yet dynamic quality that shifts depending on one's vantage point.
Entangled with the specifics of the surrounding environment, the functionality, the play of surfaces and textures, and the connection to the roaring winds and ocean, ensure these works serve as fitting additions to a setting where many facets of art have already provided a point of difference.