News
ArtBeat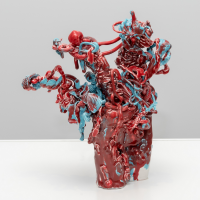 Van Hasselt's colourful and seemingly mutating brightly coloured Totter, was selected by a judging panel made up of curator and collections manager at The Suter Art Gallery Te Aratoi o Whakatū , Sarah McClintock, international ceramic artist Cheryl Lucas and arts collections curator at the University of Canterbury, Lydia Baxendell. Collectively, they described their decision as based upon the "honesty, energy, tension, joy and the immense skill" that the artwork displayed, noting that "it (was) incredibly memorable."
The annual Zonta Ashburton Female Art Awards exhibition is held by the Ashburton Art Gallery in partnership with the Zonta Club of Ashburton, with the exhibition highlighting the work of female visual artists in Canterbury, and promoting excellence in emerging and mid-career female artists. VanHasselt's Totter was chosen from among 41 works, (26 for the Premier Award, and 15 for the Young Generation Award) and as the winner in 2020 she receives $3,500 and the opportunity to hold a solo exhibition at the Ashburton Art Gallery in 2021. She has exhibited previous at the Gallery, creating Snapdash! a perplexing and colourful visual maze on the gallery walls and ceiling in August 2018.
In its ability to charm, just as it sought to disorientate, Snapdash! shared much in common with a previous installation by Van Hasselt commissioned in 2016 by SCAPE Public Art in Ōtautahi's Re:Start Mall in Cashel Street. VanHasselt's Buzz Carpet, a bright-pink lattice painted on the pathway through the container mall was warmly received by the public as a work of art "that really buzzes."
The 2019 winner of the Zonta Ashburton Female Art Awards, Melissa Macleod also opened her solo exhibition to run concurrently with the 2020 Award show. In conjunction with her exhibition, Macleod will present a floor talk on the 19th of April.
DETAILS
The Ashburton Art Gallery is currently closed. For updates on reopening and its programme go to: www.ashburtonartgallery.org.nz
Zonta Ashburton Female Art Award 2020, until 12 April and Melissa Macleod, The Trappings of Ghosts
Ashburton Art Gallery
327 West Street
Ashburton, Mon-Sun 10-4pm Wed to 7pm
IMAGE
Janna VanHasselt, Totter, 2020, glazed porcelain