Article
ArtBeat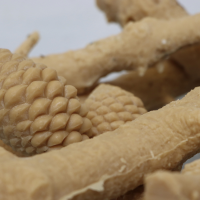 The thirteenth iteration of Ilam School of Fine Arts' annual SELECT award draws pieces from final year undergrad and postgraduate students for entry into the University of Canterbury Art Collection. The award evening commences a week of open studios, offering a rare quiet, and a chance for curious visitors to sneak a peek inside the department.
The culmination of a year's research and experimentation for graduates across five disciplines, the ILAM exhibition presents multiplicities of new dialogues and diverse perspectives from emerging artists, offering a vibrant cross-section of contemporary creative development and revision as students each craft individual exhibition practices. These are marked within a dedicated publication, cataloguing all third, fourth, Honours, and MFA-year bodies of work up for accession into UC's celebrated tertiary collection.
In this latest edition, esteemed writer, curator, and Director of the Physics Room Abby Cunnane brings a discerning eye to the unenviable role of guest judge, commenting on relationships of exchange and connection in her selection of three candidates. Contemporary sculpture is well-represented in the prize recipients for 2021; Sam Towse uplifts spare urban details to consider infrastructure as implicating both the public and private, while Rachel Sleigh casts "the familiar and discarded" in microcrystalline wax, moulding object landscapes in Beuysian boughs and kernels. Stella Sales reframes pervasive neoliberal philosophies, realising literary references in sleek noir performance and game design.
Successes at this junction raise conversations of location, in the fledgling shift into the sphere of independent practitioner, of graduation from that awkward equivocation 'student-artist' and from the shelter of the arts institution. The resulting sense of in-betweenness and thresholds crossed, of navigation and orientation, is a key part of the graduate experience.
While initially uneasy about the intent selective editing and curatorial aspect given the essentially varied premise, I was heartened to encounter a rather more generous perspective, one that balances polished snapshots of exceptional student outputs with innovative, green, or unruly thinking and artmaking - that which is so exciting about student awards exhibitions. Here, identity politics and personal narratives mingle with social commentary and institutional critique.
The annual rhythm of the end-of-year showcase reminds us of where we have been and where we are going, reflecting upon student achievement at the close of their studies, with an eye to the promise and potentiality of contemporary arts practice in Ōtautahi and beyond.
DETAILS
Ilam 2021 Open Studio Exhibition
Fine Arts Lane, off Clyde Road, Ilam
20 – 25 November