Reviews
ArtBeat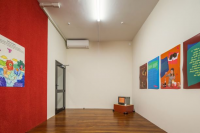 Grace Crothall's Shelter House wields an unheimliche visual language to describe a sensation, one located somewhere at the intersection of institutional-neoliberal-horror. Gothic conceptual concerns in Ōtautahi have previously been coined and unpacked by writer Jasmine Gallagher in her piece Christchurch, and the heart of the Antipodean Gothic. Crothall, among other artists of her generation, fits neatly into a new context with old histories, starting somewhere around the publishing of the H. P. Lovecraft's story, The Call of Cthulhu, in part, being set in Te Waipounamu.
Shelter House is an analytical untangling of her Pentecostal upbringing, pointing to the church's historic practical obsession with God. The Pentecostal church is offered up inside The Physics Room, the gallery as heterotopias. Shelter House is not a show about evangelising or overt criticality, but rather embodies a concern with perspective, digestion and fetishisation.
Clunky banners stand near the entrance as sentinels, co-opting the dry visual language of non-places like airports or shopping malls, a VHS-infused vision of a woman rapt in worship is a foreboding view of something that feels significant, an invitation, definitely not a welcoming one. Light appears from around a corner, it's coming from a door. It is gloss-black powder coated and opens on a hydraulic hinge. As it opened I was confronted by the offensive whine of the fluorescent-lit second space. The toxic smell of red carpet covering one wall suggested the horror of environments such as this reframed in a new space - a gallery, where one may seek to escape the horrors of the suburban and the mundane.
Zoe Crook's exhibition text, The milk carton kids of the 80s (vital symbolic work in the context of panic domesticated) references a recurring historical phenomenon associated with the notion of the Blood Libel, an anti-Semitic canard used by Christian churches to persecute Jewish people. Across the western world, conspiracy theories have become a mainstream of information. The internet has disseminated this information to God-fearing far-right conservatives now entering the world of Q-Anon conspiratorial worshippers. The fanaticism and moral panic following this parallel-universe has started to shape the world around us and the information people consume, affecting the understanding of politics and world events as Satanic or conspiratorial in nature.
Shelter House seeks to explore and open-up a rare glimpse into the atmosphere of a type of paranoia. Crothall is homing in on an omnipresent sense of horror, dressed in the skin of a neoliberal visual language, speaking not only to historical phenomena that seems to be creeping up in culture again but to the specificity of this being contained within a familiar (though unwelcoming) prudence. The tension in this institutional re-dressing is in the generation of atmosphere. It speaks to an unsettling presence the show has, an ugly guise of functionality and austere practicality.
DETAILS
Grace Crothall, Shelter House
301 Montreal Street, Christchurch
27 February – 4 April
IMAGE
Grace Crothall, Shelter House, (installation detail), photograph: Ellie Waters