Article
ArtBeat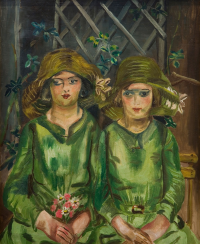 The Dunedin-born expatriate artist Frances Hodgkins holds a central place in British Modernism and New Zealand art history and an exhibition as comprehensive as 'Frances Hodgkins: European Journeys' is long overdue in New Zealand. Developed and toured by Auckland Art Gallery Toi o Tāmaki, 'European Journeys' is one of Christchurch Art Gallery's latest exhibitions and perhaps one of the Gallery's most significant for some time.
Focussing on Hodgkins' travels, 'European Journeys' almost reads like her own visual travel journal through England and the Continent; constantly on the move, Hodgkins was inspired by wherever she went and her images are personal responses to the various environments, people and changing seasons around her. Bringing together Hodgkins' stunning watercolours and drawings, portraits, and English and Mediterranean landscapes, the exhibition affirms her preoccupation with the landscape, portraiture and still-life genres, as well as her proficiency with oil, pencil, watercolour and gouache.
My personal highlight from the exhibition is the first room where a number of Hodgkins' rarely seen watercolours are on display. Dating from the early years of Hodgkins' career when she was living in Paris, the works reveal the influence of Impressionism on her subject matter and technique. This is evident in Untitled (The Piano Lesson), c.1911, Untitled (Woman with a Mirror). c.1912, The Hill Top, c.1908, an idyllic plein air scene, and Le Réveil (Mother and Child), c.1912, a tender image of mother and child reminiscent of the work of Mary Cassatt.
The three subsequent rooms feature Hodgkins' striking and brightly-coloured portraits, landscapes and still-lifes dating from her time in England. Personal favourites here include the landscape/still life Wings over Water, 1931 – 1932, and Bridesmaids, 1930, characterised by its rich, vibrant greens. Also worth noting are Hodgkins' beautiful chalk drawings including Village Scene, Peaslake, c.1929, an accomplished landscape.
As Hodgkins travelled, she developed her individual style by experimenting more with composition, space and form. Some of her still-lifes from the early 1930s such as Red Jug, 1931, and Cut Melons c.1930 – 1931, feature cubist forms and flat planes of bold colour suggesting the influence of Cezanne, Matisse and Picasso. The warm, earthy tones that she employed in these works are repeated in some of her Spanish landscapes, namely Spring in the Ravine, Ibiza, c.1933, a direct response to the environment in which she was living and working. Also included are works Hodgkins completed upon her return to England. Veering towards abstraction and with its frenetic brushstrokes is August Month, c.1939, and the brightly coloured House and Outhouses, Purbeck, c.1938.
Due to the rich amount of material covered in the exhibition, and the large number of works on display, 'Frances Hodgkins: Eurpean Journeys' demands repeat visits, each one a stimulating experience. Beautifully curated and thoroughly researched, it is a fitting tribute to one of New Zealand's greatest and most innovative female artists.
Margaux Warne
DETAILS
Frances Hodgkins: European Journeys
Christchurch Art Gallery Te Puna o Waiwhetū
Cnr Worcester Boulevard and Montreal St, Christchurch
The Gallery is currently closed. Exhibition is scheduled until 1 June
IMAGE
Frances Hodgkins, Bridesmaids (1930). Oil on canvas. Collection of Auckland Art Gallery Toi o Tāmaki, gift of Lucy Carrington Wertheim, 1948.