Reviews
ArtBeat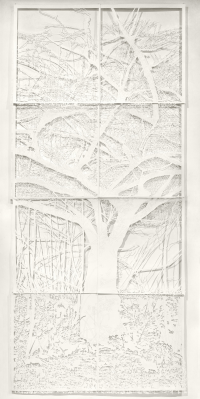 Fiona Van Oyen, Navigation Lines
Warren Feeney
Navigation Lines was a remarkable exhibition. A series of cotton paper works from an artist who has comprehensively claimed the territory of her materials of choice, occupying centre stage in The Central Art Gallery space with an orchestrated presence that was anticipated, yet in seeing and experiencing - still a surprise.
The exhibition confirmed that Fiona Van Oyen has a great deal still to say about place as a defining symbol and indicator of self and belonging. The experience of the exhibition was also in on the act, directing our attention to the familiarity of skylines, landscapes and the plants and trees around us. In cutting cotton paper into sculptural silhouetted works and, as a printmaker, disrupting the absolute flatness of her paper surfaces, (embossing and embedding them with ridges and channels), Van Oyen's attention was upon sharing an encounter of the physical qualities of her materials with us in a moment in time in the space of the gallery.
Yet, if there was a welcoming reassurance and certainty about the experience of Navigation Lines, (achieved by the sureness of the artist's eye to track and trace the meandering line of leaves and branches with due scrutiny), impermanent and absence also made their presence felt. Van Oyen's silhouetted cut-paper three metre-high and one metre-wide Memory of Place Takes Flight, gave due attention to the spaces in between its cotton paper. This was not simply a unique botanical study of sorts, appropriating all the accuracy of the detail of such traditions, in cutting and exposing the spaces in between the form of her subjects, Van Oyen gave due consideration to absences. Thin and delicate stems and leafs and the spaces surrounding them, seemed as one, assured yet fleeting, in the presence of their circumstances.
And in making this observation, I am again reminded of the way in which Van Oyen's work comprehensively controlled and commanded the gallery space. She clearly grasped that even though the monochromatic tonality of many of her work made a vital contribution to the affirmative spirit of the exhibition's intentions; this was qualified and enriched by prints like Above and Below. Its lyricism and beauty of line enlivened by the brilliance of its pinks, burgundy, greys and reds.
Navigation Lines reflected upon and drew from personal experience, yet in the extensive depth of its reach, it transcended its sources as something more complete and resolved, verifying that, right now, Van Oyen's art is in a particularly good frame of mind and place.
Fiona Van Oyen, Navigation Lines
The Central Art Gallery
2 Worcester Boulevard, Library Building, the Arts Centre
Christchurch 8013
11 April - 12 May
IMAGES
Fiona van Oyen, Above and Below, 2018/19,lino print on cotton paper with oil based inkm enamel and acrylic paint, 900 x 600mm
Fiona Van Oyen, Navigation Lines, (installation) centre left: Memory of Place takes flight, 2017/18
Hand cut cotton paper, pencil and stitching, 3000 x 1300mm