Exploring Drawing in Space at COCA Toi Moroki
Sun 28 Nov 2021, 12:00 am
COCA Toi Moroki
66 Gloucester Street
Christchurch
Exhibitions, Visual Arts, Installation, Sculpture,
Wheelchair access, Accessible toilets, Mobility parking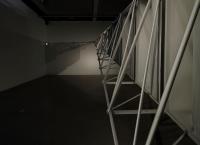 In the 21st century architectural drawings are digital propositions with a subtext that may often suggest the promise of a utopian reality. Drawing Machine represents a different proposition, a monumental aluminium frame installation traversing the space of COCA's Mair Gallery. Light, space, shadow, mass and volume are mapped and documented as an amalgam of shifting relationships explored anew through an encounter with the here and now, reconsidering, in this instance, the potential of the Mair Gallery and its occupation as a public space.
Conceived and realised by director of Paterson Architecture, Aaron Paterson, with designer at Paterson Architectural Collective, Sarish Mulla, and lecturer in architectural media at the University of Auckland, Marian Macken, Drawing Machine's documentation of differing experiences of the Mair Gallery are then further transformed in Edge of Shadow in COCA's North Gallery in a digital format and unique experience of the gallery space. It is an unanticipated surprise, raising questions about the uncharted possibilities of a long-serving community space and the nature of our occupation and relationship with it.
DETAILS
Aaron Paterson, Sarosh Mulla and Marian Macken
Drawing Room
COCA Toi Moroki
66 Gloucester Street, Christchurch
28 November to 20 February 2021
IMAGES
Aaron Paterson, Sarosh Mulla and Marian Macken, Drawing Room, (installation). Photograph: John Collie.