PICK. Summer
Tue 20 Nov 2018, 05:30 pm
Sat 08 Dec 2018, 03:00 pm
NZ artbroker Showroom
241 Moorhouse Ave
Christchurch
Exhibitions, Visual Arts, Arts Culture, Painting
Wheelchair access, Mobility parking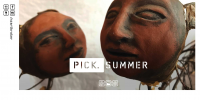 Our PICK. Summer show brings you a selection of new works from Greg Yee, Juliet Novena-Sorrel & Jacqui Gibbs Chamberlain
NZ artbroker's PICK. presents an in depth look at some of New Zealand's most sought after artists.
PICK. allows this group of artists to present a body of new work, all for sale online and through a continuing exhibition programme.
PICK. provides an online platform for these artists, enabling them to showcase a more comprehensive catalogue of their work and tell more of the story of their work and their career.