Reviews
ArtBeat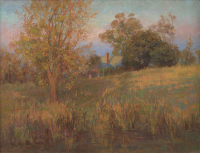 With a personal interest in nineteenth-century European and New Zealand art, I was especially keen to see Endless Light soon after it opened. It features twenty-two oil paintings, all of which are drawn from the Gallery's historic collection. The works date from between the seventeenth century and early twentieth century, capturing the impact of light on the natural landscape at different times of the day and across a range of seasons. It is a delightful little exhibition which focuses on the landscape genre just as much as it explores the theme of light.
Of particular significance is a wall which boasts John Gibb's powerful, awe-inspiring Flood in the Otira Gorge (1895) and Petrus van der Velden's Mount Rolleston and the Otira River (c.1893). Both artists capture the majestic qualities of the Otira landscape and the light lurking behind the mountains, piercing its way through dark, imposing storm clouds. The two works displayed alongside each other is long overdue.
Set against the Gibb and van der Velden images is a pair of strikingly different works on the wall opposite: Charles Herbert Eastlake's autumnal Lingering Leaves (1901) and Grace Butler's Evening Glow (1919), a personal favourite of mine. Butler is an underrated artist and her painting evokes the golden light, warmth and atmosphere, typical of a late summer's evening. Nearby is Butler's impressionistic On the Beach, New Brighton (1916) in which a muted light is cast across the beach scene through soft-pink and white clouds. Hung alongside it is local favourite, In the Sandhills, Jutland (c.1885) by English artist Adrian Stokes.
There are a number of other surprises in the exhibition, including van der Velden's Gathering Beet, Village of Rijnsburg (c.1888). A poignant and atmospheric Realist work, van der Velden has portrayed a group of farm workers picking beet against a backdrop of thick, silvery clouds. Terrick John Williams' Twilight, Venice is also striking; through the use of viridian green and lavender, evening light is captured on the façades of Venetian buildings, while the glow of a streetlamp is reflected in the water nearby.
Twilight is also the subject of Alfred East's peaceful English pastoral scene, The Moon and the Manor House (c.1894), moonlight reflecting on water, light emanating from one of the farm house windows. Other works of note include John Gibb's Bottle Lake (1882), Meindert Hobbema's A Wooded Landscape with Peasants on a Path and an Angler at a Stream (c.1662) and Edmund Gouldsmith's impressive Pool near Adelaide (c.1864).
While providing Gallery visitors with an opportunity to view paintings they may not have seen for some time, if at all, Endless Light reveals something of the range of the Gallery's historic collection and the predominance of the landscape genre in particular. There is much potential for other historic exhibitions of this nature to be curated.
Endless Light
Curated by Nathan Pohio
Christchurch Art Gallery Te Puna o Waiwhetū
Cnr Worcester Boulevard and Montreal St, Christchurch
IMAGE
Grace Butler, Evening Glow (1919) Collection of Christchurch Art Gallery Te Puna o Waiwhetu; presented by the Canterbury Society of Arts, 1932