Emma Fitts | Towards Another Figure
Sat 02 Mar 2019, 10:00 am
Sun 07 Apr 2019, 04:00 pm
Ashburton Art Gallery
327 West Street, Ashburton
Ashburton
Visual Arts, Free Entry Event,
Wheelchair access, Accessible toilets, Mobility parking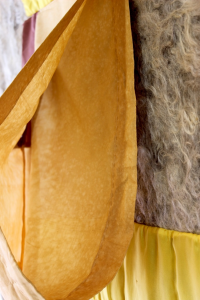 Ashburton-born artist Emma Fitts' visual arts practice blurs the boundaries of textiles, craft and sculpture and celebrates the tactility and inherent history of materials. Extending the conceptual concerns of her ZAFAA18 winning work Unknown Cloak, Fitts examines the canonised narratives of art, architecture and design with the overlay of lesser-known histories.

Taking inspiration from New Zealand artist Zena Abbott's woven installation Nomads (circa 1980), Fitts has created six new forms which are re-configurations of her large-scale felted works from her solo exhibition From Pressure to Vibration—The Event of a Thread at Dowse Art Museum in 2017. In that exhibition Fitts combined the six tactile exercises of the Bauhaus School of Art and Design – pressure, pricking, rubbing, pain, temperature and vibration – with the various aspects of textiles drawn from the
Dowse collection in relation to architecture, modernism, three-dimensional fibre art, storytelling, the local textile industry and raranga (Maori weaving).

Towards Another Figure brings to focus what lies in the periphery of many traditional archives and biographies on female textile artists such as Zena Abbot. Although Abbott was an influential weaver in the 1960s and 70s, little is documented about her practice and her works in public collections are yet to be fully realised and researched. By paying attention to these histories Fitts honours and elevates the work of her predecessors while similarly carving new territories for contemporary textile practice. Laden with the readings of previous work and the nuanced details of stitching, braiding and cascading
weight, these new suspended 'figures'hover, meander and appear to rove the gallery space in search of something; a place to rest, or a new horizon perhaps.

Emma Fitts has graduated from the University of Canterbury and the Glasgow School of Art. In 2014 Fitts was the Oliver Spencer Bower awardee in Christchurch. She was the 2018 McCahon House Artist in Residence and has recently been awarded the Fulbright-Wallace Arts Trust Award which will see her undertake a ten-week residency at Headlands Center for the Arts in San Francisco. She lives and works in
Christchurch.
Images
1. Emma Fitts, Towards Another Figure (detail of installation), image courtesy of the artist
2. Emma Fitts, Unknown Figure 1-6 (detail), silk and wool, 2019, image courtesy of the artist