Article
ArtBeat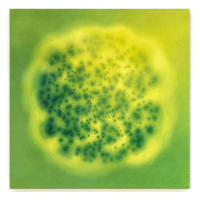 Elizabeth Thomson, Cellular Memory: A Survey Exhibition Curated by Gregory O'Brien at the Aigantighe Art Gallery
For over 30 years, Wellington-based sculptor/installation artist Elizabeth Thomson has been drawn to areas of scientific knowledge such as botany, micro-biology, oceanography and mathematics.
In her art we encounter new ways of seeing, feeling, understanding and possibly even remembering. As human beings, we are familiar with our own patterns of memory, and with motor, or body memory, which allows us to repeat physical movements. The idea of 'cellular memory' raises the possibility that memories might be stored within cellular structures.
In Elizabeth Thomson's art we recognise not only the beginnings of life in microscopic, cellular structures but also the pulse of energy through water, the patterning of wind on sand and the cycles of growth and decay that characterise all life on our planet. In these meditative, beguiling, vital works, we begin to sense the curious intelligence and sensibility of our world—the many-layered environment of which we are a part.
Gregory O'Brien on Elizabeth Thomson's Cellular Memory
DETAILS
Elizabeth Thomson, Cellular Memory
Aigantighe Art Gallery,
49 Wai-Iti Road, Timaru
27 February – 9 May 2021.
IMAGE
Elizabeth Thomson, Cellular Memory III, 2019, Glass spheres, optically clear epoxy resin, Aqueous isolation, cast vinyl film, lacquer on contoured and shaped wood panel, 900mm x 900mm x 50mm