Blog
ArtBeat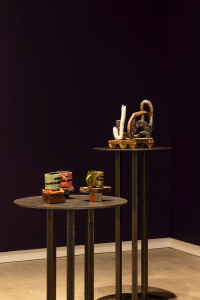 Despite the radically different media respective involved, both Judy Darragh: Competitive Plastics and Tender Brick: The Material Epiphanies of Peter Hawkesby have a common spirit in their rejection of convention and their radical experimentation with plasticity and form.
Darragh's irrepressibly playful arrangements and semiotic derangement of found objects never fails to astound. The plastic mini hangers from packets of stockings are transformed into architectural chain curtains with a hint of cheeky koru. A panoply of trouvé bits and bobs of plastic consumer detritus are given cohesion in a biomorphic web of black fishnets. A spine of gaudy opshop shoes climbs the wall.
In curating this, Heather Galbraith has applied the theories of French philosopher Catherine Malabou, whose contribution to philosophy combines Foucault's transubjectification with brain science's neuroplasticity. In layperson's terms, in our high-paced, constantly changing technological culture, it's increasingly difficult to maintain a balance of wellbeing, and Darragh's work offers ways of finding catharsis and using unexpected and humorous ways of addressing problems. Darragh's lurid assemblages of the decontextualised and repurposed uniquely critique and short circuit the psychological baggage of our materialistic values.
Although as a ceramicist, Hawkesby's materials and means were more traditional in the mid-1970s, the artist abandoned the slick symmetry of the potter's wheel for a distinctive and individual form of sculptural expressionism. The exhibition's title, Tender Brick, is a feint at Gertrude Stein's 1914 book Tender Buttons, a polarising touchstone of experimental modernism to which CoCA/Objectspace's guest-curator Richard Fahey compares the reception of Hawkesby's work, although the selection represents the artist's production since his return to full-time ceramics work in 2016. Hawkesby's signature blobby-but-turgid "tick" or "check" mark – a universal symbol of approval that even Nike can't completely control – is very much in evidence.
Like Stein, Hawkesby insists on engagement unencumbered by formal preconceptions – which works very well with the Darragh show, though Hawkesby's palette of earth tones and rampant expressionism contrasts with Darragh's plastic rainbow of contained, found forms.
Hawkesby's compositions explode like a firework going off, but there is an inherent paradox in a formally curated white cube type exhibition like this. Hawkesby has always insisted on the primacy of touch in the experience of his pieces which is flat out impossible in the "do not touch" environment of an art gallery. Arguably the same paradox is inherent in Darragh's show as well, making experiencing these two marvellous shows, an exercise in temptation and willpower.

DETAILS
Judy Darragh: Competitive Plastics (curated by Heather Galbraith)
Tender Brick: The Material Epiphanies of Peter Hawkesby(curated by Richard Fahey)
The Centre of Contemporary Art Toi Moroki (CoCA)
26 February – 7 May 2022
IMAGE
Judy Darragh: Competitive Plasticsat CoCA Toi Moroki, curated by Heather Galbraith. Photograph by Sarah Rowlands.
Tender Brick: The Material Epiphanies of Peter Hawkesby at CoCa Toi Moroki, curated by Richard Fahey. Photograph by Sarah Rowlands.