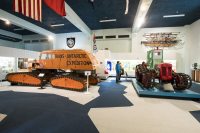 As Canterbury Museum commences the progressive de-installation and packing of its artifacts as the first stage of its five-year redevelopment and transformation, it is simultaneously putting together a farewell exhibition of the public's favorite items and objects. Arguably, there will be no one in Ōtautahi Christchurch who will not have encountered at least one of these at some stage in their life and in responding to its redevelopment, Canterbury Museum's director Anthony Wright emphasises that 'this isn't goodbye – just see you later.'
Although the Museum at Rolleston Avenue will be closed for five years, a central city pop-up space will also open in 2023, exhibiting favourite objects over this period. As part of its earlier planning, public consultation and recent social media feedback have identified the top six subjects for Museum visitors: The Christchurch Street, Discovery (the natural history section with a focus on young audiences), temporary exhibitions, the Antarctic Gallery, heritage buildings and the Blue Whale Skeleton. Among these categories, Wright singles out specific items that the Museum is prioritising for attention; at least one shop from the Christchurch Street, two draws of insects, the Antarctica Gallery and the cast-bronze bust of Roald Amundsen by sculptor Arne Vigeland.

Certainly, comments in the Museum's visitor's book highlight the significance of these various gallery spaces and items. they include:
The Christchurch Street
Marilyn Hore: Thirty two years ago I came to Christchurch. My experience and memory of the museum was that of a 6 year old who loved the Canterbury Street. I was so excited to go and relive that beautiful memory. When my children were younger we were at the Museum almost weekly. The Canterbury Street was a favourite place to visit. It was a place where they could do all be it, ride a horse and the penny farthing. Please keep this treasure. It is a wonderful place of learning.
Rachel Pettigrew: I love the old street!! Loved it as a kid & love it still.
Lyn Leslie: The Christchurch street is a clever way to experience our heritage and get loads of exhibition pieces on display to be seen. More of this type of thing please, while including more technology in doing so.

The Discovery Centre
Rebecca Chrystal: The discovery centre is an asset to the museum. As a child it was always my favourite part, lying on glass floors to see what it underneath, looking through jars and in general being immersed and not necessarily digitally in all of these amazing models, taxidermy and preserved creatures.
Rod Newton: I love to see animals. I also enjoy the changing exhibits and my kids love the interactive stuff
Rachel Trafaiile: The Bird hall, all the taxidermy (including the Discovery Centre), dinosaur bones, moa exhibit. Skeleton on the Irish Elk and that small room of curiosities like the vegetable sheep.
The Antarctica Centre
Ezra Prattley: I absolutely love the Antarctica Exhibition! It must be difficult to curate this space when there is obvious overlap with the Antarctic Centre, but I love the feeling of adventure that permeates this space!
Matthew Vannoort: Beautiful heritage buildings! Antarctica displays. And the good old butterfly draws.
Jessica Geddert: The Antarctica exhibit upstairs is very unique to Christchurch and the history of CHCH as a base.
Wright further comments that among favourite objects the public will have to wait for until the Museum's reopening is the world's biggest blue whale, soaring 'above the main atrium, and in six years time, the Christchurch Street and paua shell house are likely to be back as we know them and Discovery is very likely to be expanded and encompass the full gamut of the Museum's collection.'

DETAILS
Canterbury Museum
11 Rolleston Avenue
Open Monday – Sunday: 9am – 5pm
IMAGES
1. The Christchurch Street, photograph: Canterbury Museum
2. Antarctica Centre, photograph: Canterbury Museum