Blog
ArtBeat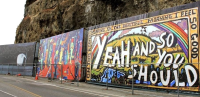 It began post-quake in October 2011with approximately 160 shipping containers in Sumner, initially placed between land and sea as a barrier against the potential collapse of the hillside bordering Peacocks Gallop, yet equally doubling up as an outdoors art gallery.
Container Art was founded by Sumner artist, gallery owner and curator, Brian LEstrange. Featuring the work of leading New Zealand artists from day one, in 2011 it also represented an affirmation to the city and surrounding districts that its residents post-quake were here to stay. In an interview with The Press, LEstrange commented that the freight containers were 'very much about the community turning a negative into a positive, and it is a fantastic platform for artists to show their work when the galleries are closed.'
LEstrange remembers well the arrival of the shipping containers in Sumner, placed there as protective rock barriers along Peacocks Gallop. 'Sumner was used as a wall for a giant art exhibition with works by artists that included Shane Cotton, Tony DeLautour, Fiona Paddington and Simon Kaan. There work was shown on a monumental scale. The artworks, some forty-foot wide by two stories tall worked their way along the beach front, and as new paintings were installed, that dreary wall was transformed into a positive highlight for the tired locals and any brave visitors to Sumner.'
'New Zealand artists were then matched with sponsors and as installations of many artworks, it gained momentum, and being such a memorable exhibition in 2011 those artists were then brought in again to exhibit their work in an annual show at LEstrange Gallery and since that time guest artists such as Jeffrey Harris have further participated, again culturally enriching the area'.
Now in its 12 year the anticipation and enthusiasm for Container Art in Sumner as an annual seems even stronger, as locals await who the artists will be for this year and which of their works will be upped in scale and given a public presence like no other that makes the experience of their art impossible to miss.
In 2022, participating artists are: Hamish Allan, Nigel Brown, Alison Erickson, Jason Greig, Bryan LEstrange, Alan Pearson, Ewan McDougall, Llew Summers and Philip Trusttum
DETAILS
Container Art
Peacocks Gallop, Sumner from 30 August
LEstrange Gallery
53 Nayland Street Sumner, 5-8pm
IMAGES
Nigel Brown,Yeah, and So You Should, container art, Peacocks Gallop