Article
ArtBeat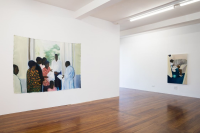 Tāmaki Makaurau artist brunelle dias considers complex relationships and connections with a series of contemporary oil paintings drawn from family photo albums. Pieces question which unexpected, impressionable, enriching, or formative moments make up the self, to unpack concepts of identity as a constantly changing and collective construction.
the way things are. On paper, the tone of this title sounds assured, even authoritative. However, embodied viewing of this show soon disabuses the viewer of any premature assumptions. This exhibition resonates with an atmosphere of affection, as well as a measure of uncertainty, a questioning which offers potential new readings and re-contextualising of histories, while holding space for critical reflection.
Moments intimate and incidental are recognised alongside landmark celebrations of a young life. The artist's own baptismal rites in Mumbai (more than 20 years before) play out concurrently with domestic chores; two generations of maternal figures dress their hair around a corner from a First Communion. Audiences experience these depicted events as visions out-of-time, an emotive yet temporally indeterminate landscape of shared memory.
In keeping with this thematic tenderness, images are suffused with buttery light, a palette of creamy ivory and ochres set against vividly pigmented blues. The dark sliver of shadow cast by the camera's flash betrays the origins of these images, either handheld digital photographs captured by the artist, or those from a more distant past. Painterly suggestion of exposure flattens subject and ground, obscuring details of expressions in thin glossy layers, though figurative language more than suffices to communicate feeling – bodies bend and stretch and cradle, unaware and dreamily absorbed.
Out-size scale here evokes an enveloping textile or a living field. Unstretched and unhampered by restricting frame or fittings, these paintings seem to bleed beyond their rough canvas edges, forming window-like openings onto unguarded scenes, which as visiting groups draw close to and move before, they extend and become part of.
brunelle dias' the way things are foregrounds narratives of attentive safekeeping and shared archival action, revealing an earnest desire to document even ordinary and in-between experiences. Images recorded via smart phone or film are further re-imagined in a new medium, a fluid bridging of past and present that brings together a piece work of fragmentary personal and familial identities. The resulting exhibition is both nuanced and nostalgic in its emotive qualities and contemplative conversations, a stunning start to The Physics Room's summer season.
DETAILS
brunelle dias, the way things are
The Physics Room
301 Montreal Avenue, The Arts Centre te Matatiki Toi Ora
29 October – 11 December
IMAGE
brunelle dias, the way things are(installation view), 2022. Photograph by Janneth Gil.