Article
ArtBeat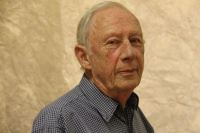 When Brian Hoult joined the Community Arts Council in Rangiora in 1988 there was no public art collection or art gallery. Establishing the Waimakariri Art Collection Trust in 1995, the beginnings of a collection of work by local and nationally renowned artists, he also pressed for the establishment of Rangiora Chamber Gallery which opened in the township's new public library in 1996.
Twenty-five years later he is stepping down as curator and gallery manager. He departs, leaving a robust infrastructure for his successors, advocating for the arts going forward. He recalls that Chamber's inaugural exhibition was Connections, Hoult inviting 27 artists closely associated with the region. It included painter John Parker who contributed a work based on his memories as a student, gathering hay in North Canterbury. Hoult states that the painting is now 'the pride of the collection. That was chosen for the exhibition and bought by the Trust. So things were starting.'
'Early on, in the first year we had photo-realist painter Kees Bruin. Because no one had heard of his photo-realist stuff they came along and said "Wow." It was a typical reaction and we started to ask ourselves [regularly], how many "wows" are we getting? The other thing is that residents, who would not wish to be caught dead in a gallery, could wander into a library. No one need know that they are there. The library and the gallery's time had arrived.'
Chamber's association with local artists also included Olivia Spencer Bower (1905 – 1982) in an exhibition of her paintings from private collections in 1998, supported by her brother, Marmaduke. 'He was still out at Claxby. We said to him, we would like to honour Olivia and have a retrospective. My thinking was that he would know where the local works were'.
'Hoult maintains that what artists present in the gallery 'are works of integrity and there have been tough ones. Painter Margaret Hudson-Ware approached me. "I have got some paintings I haven't shown before." I said whatever you want to do you can do. At her funeral, the eulogy mentioned the three paintings from that exhibition. They were of her first husband beating her up. Their first child is in the corner watching television. That gave a really good insight into her work and she wasn't afraid to do it. I didn't receive many comments but I know people were really moved by it.'
130 exhibitions over 25 years and among them Hoult comments that there are a lot of artists who had their first exhibition with him, but he also notes: 'I will not be at the gallery anymore. I have got to stand back now so that I can let the other trees grow.'

IMAGE
Brian Hoult, Manager and Curator, Rangiora Chamber Gallery 1996 - 2021