Article
ArtBeat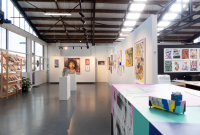 In 2021, two dealer galleries and a dedicated street-art gallery vacated the central city, relocating to Sydenham. All three initially explored relocating within the four avenues but after numerous options over six months, they leased properties in Sydenham. Their new spaces are affordable with all the necessary facilities and benefit of more floor space, natural lighting and ample studio space for local artists.
This comes as no surprise. Leasing spaces in the central city for dealer galleries and artists' studios is challenging. To their credit, Christchurch City Council and Life in Vacant Spaces (LIV) have assisted over the past ten years with short-term leases for pop-up events. But an active long-term plan for an arts infrastructure that priorities the arts as of central importance to the city's heart will most likely never happen.
The visibility of galleries in Sydenham has progressively increased over the past two decades. City Art Depot in Disraeli Street led the charge in 2000, extending its picture framing premises with a purpose-built gallery space downstairs. In 2011, Dilana and Form Gallery relocated from the central city to Buchan Street and Colombo streets respectively, and the Jonathan Smart Gallery, previously in High Street and briefly in sculptor, Neil Dawson's Linwood studio, in 2013, opened in Buchan Street.
Now with seven galleries and numerous artists' studios, Sydenham is an impressive centre for the arts, the distinct exhibition programme of each gallery, collectively representing all aspects of contemporary art. With most of the galleries opening new exhibitions every three weeks, it adds up to approximately 100 exhibitions by local, national and international artists each year. The galleries form a circular network through Sydenham, from Form Gallery as the entry point on Colombo Street, tracking around the corner to Buchan Street and then to Durham and Disraeli streets. In street-by-street order:
Form Gallery 468 Colombo Street
Director Koji Miyazaki says that Sydenham has changed dramatically since moving to the area. The decision to move was based on its proximity to the central city, rent, street visibility and its industrial ambience. Form Gallery presents the work of emerging and established object artists. In June it features a solo exhibition of ceramics by Elena Renker who lives on a farm, north of Auckland and works with clay from her own land. Over 40 years she has focused on making shino glazed bowls and cups, faceting the exterior of her pots, opening up the clay and exposing it's impurities to create interesting surfaces for her shino glaze to interact with - and iron oxide decoration provides an extra focal point. Elena Renker, Gestures. From 5 to 25 June
Dilana 52 Buchan Street
Founding director of Dilana, Hugh Bannerman relocated his rug making workshop and gallery space to Sydenham over a decade ago. He says that it provides ideal and affordable space for niche businesses with a destination brand, is close to the CBD and has retained its easy access for pickups, delivery and customer parking. 'Through to June this year our workshop is producing a large commissioned piece for a Canterbury community building and also preparing a solo show of rugs designed by a prominent Christchurch painter - to be announced. Recent new work at Dilana includes the production of artist Simon Ogden's rugs. We used the latest Austrian and German carpet print technologies, ideal in capturing the printed heritage linoleum patterns the artist uses in the larger compositions for his linoleum works'.
NZartbroker 2 Kingsley Street
Jules Mark and Gill Hay are co-directors of NZartrbroker which predominantly focuses on the secondary market of artists' sales but they also have several local artists that they represent. NZartbroker moved to Sydenham in December 2020. Hay says, 'the building we were in previously had been sold. We liked the industrial feel of Sydenham and surprisingly, easily found a large renovated space with lots of natural light. We have continually changing work on display and a large stock room for viewing. Current works include smaller bronze's sculptures from Alison Erickson, works by Karl Maughan, Seraphine Pick, Kees Bruin, Darren George and photographs by Holly Best. The move has really enriched our business. The new space has enabled us to display a larger number of works and our customer-base has extended in visitors and online traffic.
Fiksate 54 Hawdon Street
Fiksate moved to Sydenham in January 2021 and artist/manager, Jenna Ingram says, 'When our lease came to an end in the central city with no extension available, we looked at around 13 different locations for our gallery and studio. Sydenham was early on our list but we kept looking and finally came back to the amazing space we are in now. The vibe in Sydenham is so great and the gallery and studio space we have now is something we've dreamed about since we started Fiksate in 2015. Sydenham has got a small-village feel and people have been very welcoming. Our June exhibition, Continuum is a collaborative by US-based artists Jasmine Gonzalez and Elliot 'Askew' O'Donnell. With backgrounds in fashion, graffiti and muralism respectively, Continuum combines Gonzalez's photography with O'Donnell's explorations in portraiture and abstraction in a striking and unsettling body of work. Jasmine Gonzalez and Elliot 'Askew' O'Donnell, Continuum. 4 June to 3 July
Jonathan Smart Gallery 52 Buchan Street
Jonathan Smart has been working out of 52 Buchan Street for almost eight years. He recalls: 'I was looking for a ground floor, light industrial warehouse somewhere central in Christchurch and Buchan Street fitted the bill perfectly. It also has off-street parking. I felt the light industrial aesthetic of this building would really suit good contemporary art, and I like the unassuming hard -working aspect that is Sydenham. The gallery presents the very best contemporary NZ art that it can. Sanjay Theodore is showing in June, an exhibition called Crusader. He works in a variety of media (from painting, through photography to installation), and Crusader will materially and politically raise a few eyebrows. In the second half of June a group show curated by Eugene Huston opens, called The Song Remains the Same. It will include work by Steve Carr, Jae Hoon Lee, Yvonne Todd, Mark Braunias, Neil Pardington, Rob Hood, Sanjay Theodore, Hye Rim Lee, Matt Hunt and Anne Noble.
Chambers Gallery 80 Durham Street.
Opening in Moorhouse Avenue in 2011 Chambers Gallery and its artists' studios relocated to Sydenham in December 2020, opening its first exhibition in February 2021, in its new and more expansive spaces for its studios and natural light in its gallery in February. Director Ron Mottram and gallery manager Julie Williams say that their exhibition programme encompasses senior New Zealand artists, including Jason Grieg and Roy Good, as well as a strong programme of recent graduates and emerging artists from Ōtautahi Christchurch's tertiary sector in fine arts and design across a range of disciplines; painting, printmaking, photography, sculpture, drawing and installation. In June, Chambers gallery opens a group exhibition, 6 Counting, a group show featuring six recent Ara School of Art and Design graduates: Olivia Baker, Suzanne Carvell, Raewyn Crosbie, Carolyn Currie, Jane McGowan and Georgie Yates.
6 Counting, 16 June – 3 July
City Art Depot. 96 Disraeli Street
Founder and Director David Trerise says that City Art Depot was established in Sydenham in 1989. 'The suburb at that time was definitely on the "wrong side of the tracks". Most of Christchurch's galleries were within the four avenues, particularly around High Street area. 'The cluster of light industry was a natural fit for City Art Depot with its attention to craftsmanship and conservation values. In 2000 City Art Depot was extended to include a downstairs gallery, showing the work of emerging and experienced South Island artists. Since then, in the wake of the earthquakes, an upstairs stock gallery has been added. We are proud Sydenham-siders and appreciate the history of the suburb and combination of small industry and, increasingly, galleries and cafes'.
City Art Depot promotes contemporary art by new and experienced South Island artists. These include Francis van Hout, Clare Logan, Kathryn Madill, Shannon Williamson, Dean Venrooy, Charlotte Watson, Olivia Chamberlain, Henry Turner and Martin Whitworth'.
City Art Depot's June exhibition is Saskia Bunce-Rath's we bled on the grass but we didn't wake. A recent graduate of the Masters of Fine Arts programme at the University of Canterbury, she uses the traditionally domestic sphere of stitchery, applying a painterly sensibility to dynamic narratives encompassing mythic traditions, creation stories, fairy tales, poetry, music, film and art history.
Saskia Bunce-Rath, we bled on the grass but we didn't wake, 8 – 28 June
IMAGES
Sanjay Theodore, an image from his exhibition,Crusader, (Jonathan Smart Gallery)
Fiksate Gallery, 54 Hawdon Street, Sydenham, gallery space