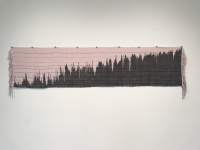 Eight artists working representing various disciplines take up residencies at The Arts Centre Te Matatiki Toi Ora in its Arts Four Creative Residency 2021 programme.
Two series of four residencies are scheduled from May to July, and August to October and whereas to date, the reopening of the Arts Centre has been measured by the progressive restoration of buildings, the residencies are about its prime directive; an arts centre supporting artists to engage and develop new work - that necessary beacon signalling that the Arts Centre is opened for business.
It is worth noting that, pre-quake, its residency programme hosted an impressive line up of artists that, among many, included printmaker and performance artist Michel Tuffery and contemporary jeweller Areta Wilkinson (Ngāi Tahu, Ngāti Irakehu and Ngāti Wheke).
So what to expect in 2021? From May to July, the four artists' are: Interdisciplinary artist Ana Iti (Te Rarawa) developing a new body of work, responding to Ralph Hotere's relationship with text and printing to produce an experimental video and limited-edition of letterpress prints. Poet and songwriter, Claudia Jardine is completing her first full collection of poetry, exploring themes around textile manufacturing in the ancient world and the history of the women in her family. Multisensory artist, Jo Burzynska explores a new method of creative enquiry, sensuous psycho-geography; an urban-walking practice guided by the non-visual senses. Seeking to answer the question: 'What might we find when we stop looking?' and creating new multisensory works. Playwright and documentary maker, Julie Hill is producing a six-part sound installation/podcast series inspired by missing family and friends due to COVID-19, giving consideration to how easy it is to lose touch, even with people you love.
For the August to October programme: Fiction writer, A J Fitzwater's plans to write a queer speculative mosaic novel set in Aotearoa New Zealand, its narrative linked by themes of joy and found family. Children's book-writer, Maria Gill, is researching and writing a children's novel on Ōtautahi/Christchurch born scientist, Sir Ernest Rutherford (1871 – 1937), whose laboratory was based at Canterbury College (the Arts Centre). Visual artist and writer, Matilda Fraser, is developing a series of weavings connecting certain objects within the Christchurch Art Gallery Te Puna o Waiwhetū textiles collection, with The Arts Centre's architectural history, and playwright and performance poet, Nathan Joe, writing a long-form poetic essay Gentrification & Other Wet Dreams, 'an ongoing exploration of identity alongside wider questions of citizenship, questioning what it means to return to a home that was never yours'.
Arts Four Creative Residency is a diverse grouping of artists among which the visual arts are well-served. Ana Iti is nationally distinguished for her work in moving-image, text, sculpture and installation. A McCahon House artist-in-residence in Tāmaki Makaurau Auckland in 2020, her recent work, Takoto, 2020, was commissioned by the Auckland Art Gallery Toi o Tāmaki for the survey exhibition, Toi Tū Toi Ora. Contemporary Māori Art.
Takoto is located in the Auckland Art Gallery on its North Terrace landing, looking out and responding to Albert Park. The Gallery's Curator of Contemporary Art, Natasha Conland observes:
Albert Park has a layered and complex history in Tāmaki Makaurau/Auckland, once known as the Albert Barracks and formerly the site of Te Horotiu Pā. Iti draws on a remaining fragment of this history – a segment of wall located about 300 metres east of the Gallery on the university grounds. The wall, which once surrounded the barracks, was commissioned by Governor Grey in 1846 to protect the then capital city from invasion during the Northern War (1845–46). Iti notes that the wall was built primarily by Māori labourers, and a New Zealand Herald article from 1873, just prior to the demolition of the bulk of the wall, reported that 'over the front gate there is an inscription in the Maori language…. The word takoto in the title, meaning 'to lay down', has two possible interpretations... – the last breath of the wall or laying forth an agenda to approach this conversation about history. In the adjacent text work, Iti re-imagines this forgotten phrase as a message from the past to the future. (see: Takoto | Auckland Art Gallery)
DETAILS
The Arts Four Creative Residency 2021programme at The Arts Centre Matatiki Toi Ora is supported by funding from Creative New Zealand and the Stout Trust.
IMAGES
Ana Iti

, Takoto 2020, commissioned by Auckland Art Gallery Toi o Tāmaki, 2020, supported by the Chartwell Trust and the Contemporary Benefactors of Auckland Art Gallery
Matilda Fraser, Garden Leaves, Toi Poneke, 14 November - 5 December 2020