Article
ArtBeat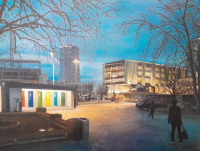 Art Metro Opens a Student Gallery in Papanui
With over 400 students attending Simon and Nadine Walmisley's art classes at Art Metro, the addition of an exhibition space will serve as an inspiration for both child students and adults.
Nadine Walmisley says that the idea for the gallery formed in the last term of 2022. 'I had overheard students discussing what they could do with their work as unknown artists, the idea evolved and we thought it was worth giving it a go. The Art Metro is primarily an art education venue, but coming a quick-second is the fact we are a community. Students return term after term for the artistic benefits and also because they form close friendships. The name of our gallery "The Platform - Gallery @ Art Metro" encompasses the idea of providing a platform for our students work and also the idea of people coming to and going from our premises for a variety of reasons, rather like a metro train platform.'
'Tuition is provided individually to children in small group settings. They choose if they want to be in a painting or drawing group and classes are never larger than 12 young people. We start with the child, their skills and interests and build from there. Tutors show them skills and techniques, given what they want to achieve e.g. how to develop shading and depth in painting, how to draw quickly or with expression when cartooning.'
'We are taking a 10% commission from the sale of works in our gallery to support children into our holiday programme at no cost to the family, something our student exhibitors are fully on board with. The selection of students will be made in conjunction with local schools, liaising with senior leaders. The selection criteria will be for students who would never have the opportunity to attend the holiday programmes due to financial pressures. Selecting the holiday programme is intentional, it includes materials and tuition. I am liaising with one school currently and in partnership with senior leaders we will make offers to families. I am delighted that from sales this month we have funds for two children to attend our next holiday classes.'
DETAILS
After-school classes run for 9 weeks each school-term, Monday to Friday with four Holiday Programmes between terms. Art Metro's gallery is open 10am-3.30pm Monday - Thursday, or by appointment. Artworks change every month in and are on Facebook, and soon on our new website.
DETAILS
Art Metro
465 Papanui Rd, Christchurch
Gallery open Monday – Thursday, 10am – 3.30pms www.artmetro.co.nz


IMAGE: Paul Hobbs, Tūranga Twilight, 2019, oil on canvas ( a student at Art Metro)